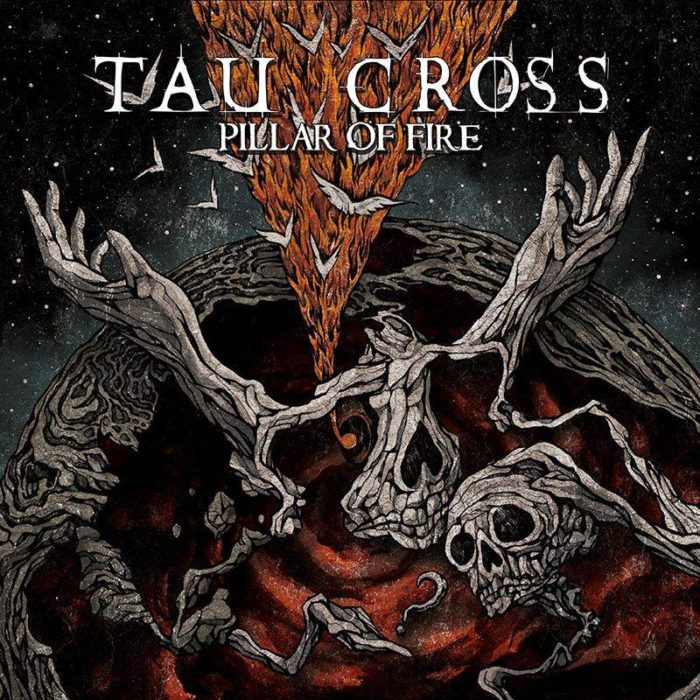 Tau Cross previewed the cover art and a track of their upcoming Pillar of Fire album on Relapse Records. "Deep State" sees the supergroup headed by Rob "The Baron" Miller regress towards a hybrid of crust, thrash, and modern rock as seen on the final Amebix album, Sonic Mass. While free of the overt Brit pop and Godsmack of Sonic Mass, "Deep State" is still almost static like a rock song with riffs around a static chord for catchy rhythms and vocal hooks to be arranged around. The instrumental music is a tired retread that I have heard at least a few dozen speed metal band do better before.
Tau Cross featured crust and speed metal riffing in Motorhead type heavy metal songs with leads strongly evocative of the post-punk of Killing Joke. While "Lazarus", the first single from the debut, lacked the power chord progressions and urgency of Motorhead, the post-punk lead riff  effectively progressed over the course of the composition in heavy metal fashion where Killing Joke kept their guitar melodies mostly repetitive and static. The debut album also featured a heavy British folk influence and occult lyrics.
"Deep State" is a major step back towards pandering towards a radio rock audience. The overtly political lyrics are present to resonate with the contemporary liberal backlash against everything Donald Trump has done and will do. This bodes badly for Pillar of Fire. I fear Relapse Records seemingly has genericized Tau Cross down to crusty protest rock for hipsters. Hopefully the rest of the album plays to the band's strengths and not their desire for commercial success.
Tags: Crust Punk, hard rock, mainstream metal, new track, pop, relapse, relapse records, rob miller, tau cross, upcoming release