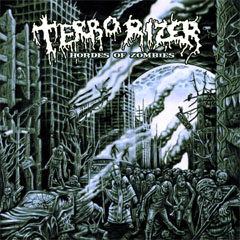 The first thing people say, almost like a spell to ward off mistaken appreciation, is that this band is not the same band who cranked out "Fear of Napalm" and "Corporation Pull-In."
That's true — and it's a good thing.
While the old material is as classic as a castle on the Rhine, and will inspire grind-heads for many generations into the future, times have changed and grindcore is trying to adapt to a modern (post-1994) era of metal.
Most options for this are bad as they are limited by strict genre constructions. For example, one can try to be "tr00" kvlt d-beat, or even blurcore, if not falling into the randomness trap that produces carnival music like metalcore, in which no part resembles the others and no sense is made; you're supposed to appreciate it like the sample platter at your local seafood place. But it's not fulfilling.
The new Terrorizer album instead wisely takes after Napalm Death's Fear, Emptiness and Despair, which acknowledges the maturation of the genre by streamlining it and thus giving it a bit more room to grow. It reduces the genre to a minimum but with clear boundaries so that experimentation, not of the surface kind that consists in adding jazz solos and a bassoon and playing the album live on a basketball court, but of the inner kind where melody and form are explored as an emulation of the sounds and emotion of life.
Intelligently, this Terrorizer aims to be a blast of energy that rivals any 5-hour stim supp or purple drank you can find. It's pure pulsing percussion kinesis, driving forward like the pumping of a panicked heart transitioning to 'kill' mode during combat, but without the darkness or cruelty of intent of death metal or black metal. Instead it's like punk crossed with techno, using the mixture of crust and death metal riffing that has always made grindcore easy to grasp but hard to appreciate in depth.
Within this framework, there's a lot of variation, including a fair number of melodic hooks that provide emotional content. Anthony Rezhawk's rasping voice is back in monotone mode, where he sounds impatient and dismissive, as is appropriate for an album about the zombiefication of the human species slowly destroying the planet (whether that's metaphor or not awaits a detailed reading of the lyrics). Pete Sandoval provides excellent percussion, and under the guidance of these two seasoned songcrafters, the raw power of the new bassist & guitarist is shaped into compelling songs.
This will be one of the best of 2012. People are unwilling to admit this fact now because that requires bucking a social convention in that, (a) "it's not the old Terrorizer" and (b) it's rather "pop" in its own sense of not attempting depth, or jagged self-drama, but instead making songs to stand on their own as objects of revelation of the world. The old Terrorizer could not exist now because its members have moved on but also because the world has moved on, in circumstance and in music, and this new album rises to incorporate those changes and make of them an interesting and paranoid tale.
1. Intro
2. Hordes of Zombies
3. Ignorance and Apathy
4. Subterfuge
5. Evolving Era
6. Radiation Syndrome
7. Flesh to Dust
8. Generation Chaos
9. Broken Mirrors
10. Prospect of Oblivion
11. Malevolent Ghosts
12. Forward to Annihilation
13. State of Mind
14. A Dying Breed
15. Wretched (bonus track)
16. Hordes of Zombies (demo)