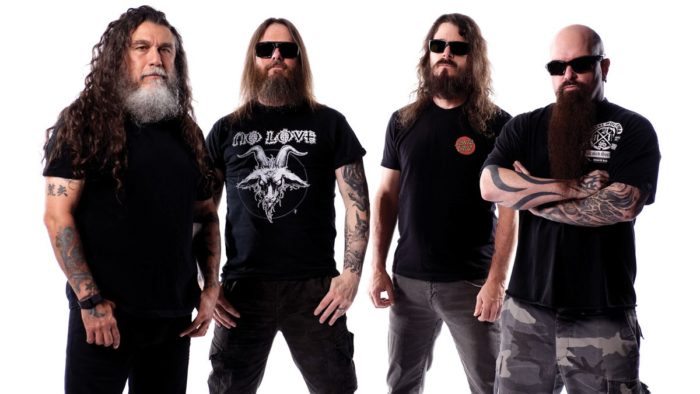 Death looms over thrash metal's most sinister (and probably most influential) band: Slayer.  After 35 years of touring and recording, the demise of the band's most valuable member Jeff Hanneman, and age coupled with 25 years of creative rut, Slayer is about to expire.  The band announced via a short video that it's time for one last ride before a long overdue end.
Truthfully, Slayer should have ended in 1990 with their last listenable album.  They instead persisted to milk the cash cow for every dollar for as long as time permitted and now they're old, grey, and barely showing any sign of life.  Kerry King even shilled for Hillary Clinton.  But then again, Kerry King wrote forgettable songs and could have been replaced by any other lead guitarist from the Bay Area.
Death comes for all things.  Slayer was good but at the end of the day bands are bands, men are men, and none of it really matters.  The world will go on, metal shows and albums will still happen, and musicians will continue to rip off Slayer while their record label banks off of reissues.  It is the way of the mainstream music industry.
Slayer's albums, as well as their innovative guitar and drum techniques, will be remembered fondly until democracy falls.  The later half of their career will be forgotten.  But what's best about this situation is that the band are setting a precedent that hopefully others in extreme metal will follow: get old, retire, die.  May a wave of death sweep through bands from the 80's and 90's so that new life may grow over the ashes.
F
Tags: death, demise, End, jeff hanneman, kerry king, metal, retirement, slayer, thrash metal