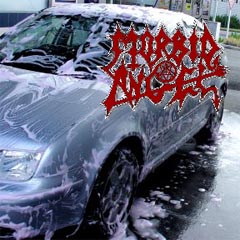 No review of the new Morbid Angel is enclosed here; by the time you read to the end, you'll know why.
First supposition: there's no point wallowing in what you hate.
Second supposition: if a linear trend toward worse is in existence, it is most likely that the most recent products are bad.
Combine those two.
Morbid Angel was a great and promising band for the first three albums because they were cruising on the strength of material they wrote in their lean and hungry days. By lean and hungry days, I mean their time in Tampa, working in a car wash, living together in the same house, doing an assload of drugs and most importantly, writing and playing the material that would be on the first album. As in, playing it over and over again until they got it right. This is a lot like what Slayer did in the early days.
Abominations of Desolation was a great album, but a bit disorganized. Mike Browning offered creative and prescient material; David Vincent acted like an MBA or business manager, cutting it down to the bare essence. As a result, Altars of Madness and the non-frufru parts of Blessed Are the Sick are pure power and come across without any fat on them. Having reached a degree of musical maturity, they knocked out Covenant …but just barely. The instrumental was convenient, many of the other tracks were ideas capitalized on from rejected earlier songs, they threw in an incongruous cover of "Angel of Disease" and wrote a few new songs that were powerful but not connected as a unit like those on the first two albums.
That was their great creative output.
Do you really need someone to bash the albums after that?
Let's try this: once you enter the music industry, someone else owns your rectum. They own the right to open it up and put something into it. The reason for this is that musicians are as a whole sloppy people who don't read contracts, refuse to understand business, and pretend that this stuff doesn't matter in order to compensate.
As a result, they're ripe for picking by the music industry. There's no point blaming the music industry; in fact, they're the heroes here because they are taking the output of dramatic, over-self-indulgent, narcissistic perpetual adolescents and shaping it into a product so those same quasi-functional people can continue existing. However, as a result, they take over the role of parent… and have to remind the musicians to make output.
In the meantime, the musicians are looking at the market. Death metal sells fifty thousand records; Pantera, Slayer, Marilyn Manson, Metallica, Megadeth, Tool, Primus, Rage Against the Machine, Nirvana, Mudhoney and Sonic Youth sell millions of records. That's what the market looked like in 1995. So with some urging from the record label, bands change. Here they make a fatal mistake: their fans like them because they're not Nirvana/Pantera, and trying to be something you're not is a good way to become an inferior copy of it. (The correct response at this point is to make your albums more technical, more passionate and more realistic, but that's difficult and requires you to NOT buy the comfy townhouse, but go back to the shitty day job at the car wash and living in a house together, making music. You have to give your life to it, for the most part. Sure, maybe you could live elsewhere in a townhouse, but each step into comfort puts you further from being able to knock off work and race home, looking forward to jamming all night and getting the music really right. Not the product — the music. But I digress.)
A lot of death metal bands, about 1994, realized they were kissing cousins of the Nirvana/Pantera/Tool crowd, and that if those guys were making an assload of money, maybe the death metal bands could too, if they just changed a bit. They changed, became inferior copies of the others, and promptly stepped out of the history books. Had they just kept making quality music, they would have lived in shitty housing for another seven years, then suddenly had an Introduction to Microeconomics moment: when you have seven albums out, and they're all really good, you don't sell as many records as Pantera does with one album, but you have a constant stream of fans who see you as "the real deal" and while they buy fewer albums, they buy consistently. And they buy all of the albums, so your first album charts about the same as your most recent. (This was proven by Metallica, before they went fluff, having all four of their albums and one EP in the top 200.)
With all that in mind, you know what happened to Morbid Angel. It must've been ugly: lots of fighting over trivial stuff, lots of negotiating about contracts they never read before they signed them, lots of hatred between band members blaming each other for the failure. And almost no time spent thinking about the music, about making music that they (Morbid Angel) would be really excited to hear, not think was on par with whatever Tool or Pantera were puking out at the time.
Do you really want a review of the new Morbid Angel? Formulas Fatal to the Flesh was good; everything else has been a failure. Domination tried to combine grunge, Pantera and death metal; Heretic was pure Pantera-doing-Tool; the live album was decent but everyone wanted to hear Brunelle solos on the older stuff; Gateways to Annihilation was just confused between styles, and now there' s a new one, which most likely continues this progression.
We're not looking at a musical entity called Morbid Angel anymore; we're looking at a business. This business succeeds by hoodwinking teenage morons into buying trendy crap. This is a workable business model only because our society values morons, protects them, and wants to ensure that we're all equal so the morons drown out the smart people. The guys in Morbid Angel agree with this. However, right now, they either puke out another commercialish album and capitalism on the raped necrophile whore of their good name, or they go back to working at the car wash.
What would you do?
Yeah, I thought so.
by Steve Brettens, Lontinuak, Pijay Vrozak and L.M. Hencken