Therion reveals new album, Les Fleurs du Mal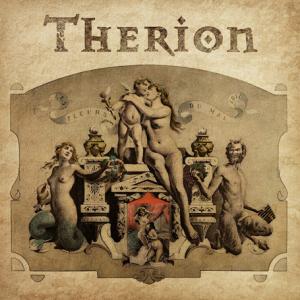 Therion are busy making final preparations to celebrate their 25th year anniversary of the band and to release the new album "Les Fleurs du Mal" (Preorder: $18) during the tour. The tour is going to include 26 cities.
(Stockholm, September 2012) – Up to this moment, none of the songs have been made public. From Friday September 28th on, Therion is going to introduce it for the first time to their fans during their "Flowers Of Evil" 25th year anniversary concert tour.
The album "Les Fleurs du Mal" is a part of an art project that Christofer Johnsson has been thinking about for some years.
"The time was never right for it, but in celebration of the band's 25th year anniversary, I thought now will finally be the right time for it," Christofer Johnsson explains.
There are still many details that are unknown about this mystical art project, and so far only the album title "Les Fleurs du Mal" of Therion's upcoming release can be officially announced.
The album title refers to Charles Baudelaire's (French author and poet 1821 – 1867) famous poem collection "Flowers of Evil" ("Les Fleurs du Mal" in French) that caused such an upset of emotions in France that the author was brought to court and got fined for "insulting the public" with six of the poems, that remained forbidden in France until 1949 when the ban was finally lifted. The spirit of the project is a tribute to Baudelaire, and is imbued into both music and artwork. The album was recorded at Adulruna studio, located in a separate building next to Johnsson's decadent "Villa Adulruna" where the band lived together while recording.
Christofer states that this art project: "Was being too controversial for Therion's label, Nuclear Blast Records, by the final results, so I asked if it was possible to buy back the master tapes of the record and release it on my own label. And after some negotiations, my wish was granted."
"But Therion of course is still signed to Nuclear Blast Records for future releases," Christofer clarifies.
By having full control of the release now, Christofer has decided to do everything his own way, and starts by releasing the album to the loyal fans first that come to the concerts in Europe during Therion's 25th Anniversary "Flowers of Evil" tour.
The album will of course also be officially released and distributed at a later stage to everyone who is not able to attend any of the shows, and will also be available through licenses to the territories outside of Europe.
Christofer explain that "This is the beginning of a new period that will last for a number of years, where the band will focus on doing certain projects performed by Therion rather than releasing regular albums. In the planning after the art project is a rock opera that is scheduled to take several years to complete."
Now during Therion's "Flowers of Evil" and the band's 25th anniversary tour the audience can expect a classy performance which combines all the elements which have been the key to Therion's success throughout the years.
Below is the schedule of the upcoming Therion tour dates.
Therion – "Flowers of Evil" – Tour 2012
Date Country City -Venue
28.09.2012, Holland Eindhoven – Effenaar
29.09.2012, Holland Groningen -Oosterpoort
30.09.2012, Belgium Antwerp – TRIX
01.10.2012, France Paris – Bataclan
02.10.2012, France Rennes – Antipode
04.10.2012, Spain Madrid – Heineken
05.10.2012, Spain Barcelona – Razzmatazz 2
06.10.2012, Spain Bilbao – Rock Star
07.10.2012, France Toulouse – Bikini
09.10.2012, France Lyon – Transbordeur
10.10.2012, Switzerland Pratteln – Z7
11.10.2012, Italy Trezzo d Adda – Live Club
12.10.2012, Germany Glauchau – Alte Spinnerei
13.10.2012, Czech Republic Zlin – Masters of Rock Cafe
14.10.2012, Czech Republic Prague – DK Vltavska
15.10.2012, Poland Krakow – Club Studio
16.10.2012, Poland Warsaw – Stodola
17.10.2012, Hungary Budapest – Club 202
19.10.2012, Romania Bucharest – Arenele Romane Tent
20.10.2012, Greece Saloniki – Apothiki Mylos
21.10.2012, Greece Athens – Gagarin 205
23.10.2012, Russia Rostov – ODO
24.10.2012, Russia Krasnodar – Arena Hall
26.10.2012, Russia St.Petersburg – Glavclub
27.10.2012, Russia Moscow – Milk
28.10.2012, Ukraine Kiev – Bingo
From the Therion webpage:
The CD has 15 tracks, but the edition sold at the concerts will have a bonus track and you will get a small poster with it. My aim is to sign and personally dedicate every single one of them at the shows.

The CD itself is fully financed by me. Nuclear Blast thought it was a bit too spectacular and we have totally different visions about how we should work on such a project. I've had a fantastic relationship with that wonderful label over the years. I've had total artistic freedom and much patience from them in a way that most other artists at our level only could dream of at many labels. So rather than having disagreements and make compromises, I suggested I release it by myself instead and they generously gave me their blessings for it. So our relation has never been better than now.

Financing a full Therion audio production mixing at ToyTown with the fantastic Stefan Glaumann, paying for orchestra and the Band members and many, many other things isn't cheap. To be more precise, it cost 75.000 euro. On top of that I also carried costs for video clips, photo session and the costs for creating the art and stuff for the CD. I don't have that kind of cash lying around in a drawer at home, so I had to go to the Bank and take a loan. I have always bragged about how I never compromise and am ready to risk everything with each release. It's easier to say that when you have a record label being a bank for you. This time I had to put my money where my mouth is. So if you buy the CD, you don't just buy a record with music, you buy a share of an idea, the idea and concept of art where the artist really risks everything to be able to bring out what he wants. Some of you will like the CD, some maybe not. But if you feel that I've done something worth raising a toast to over the years, there will be no better way of showing your appreciation than buying this CD. It will be sold at 15 euros and I hope the majority of those going to the shows will walk home with it after the shows.

I've been called risky and more crazy than usual with my ideas for this art project, by some of those very few who have been initiated into the mysteries of it. Even within the Band there has been quite some strong feelings about it. And clearly the record label didn't think they had a smash hit in their hands. This pretty much reminds me about the feeling when Theli was recorded. I recall the record label saying: "Do you really think we can sell this? What will your fans say?". But they didn't have much other choice than releasing it and hope for the best. They had just invested more money in the sound production than with any other Band in the history of the label – on a Band that didn't sell many records. But there were people at the label who really liked it too and carefully believed in it. Like the boss Marcus Steiger. But in the Band the atmosphere was really bad. The bass player Lars hated it to the core. "Fucking opera shit!!". The guitarist Jonas didn't like it either, it was "too much classical stuff and opera, should have been just some small elements of it as a spice". Drummer Piotr kind of liked it, but thought it as kind of odd and didn't have too much hope for it (just like myself, who thought it would flop too). But it turned out to be the album that made Therion a big band.

This time at least half of the Band thinks it's great stuff and believe in it. But now I'm risking my own money and not the record labels. When I took the decision of borrowing money and release it myself, I was officially declared out of order in the head by some people familiar with the matter. Well, we will see about that. When a fan buy a CD directly from a band it counts as if they bought 10 CD's at the store released via a record label. With loyal fans buying many CD's at the concerts, a big part of the production costs will be recovered.