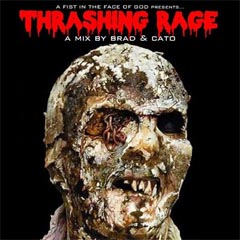 The lads over at A FIST IN THE ASS OF GOD have put together a compilation of undernoticed speed metal bands from the 1980s and 1990s. If you love this stuff, it's quite good; if you don't, it's some of the more interesting edges of the genre so you can finally get "For Whom the Bell Tolls" out of your head.
Here's the god-ass-packing tracklist:
1. Protector (Germany) "Protector of Death" (1986)
2. Morbid Saint (USA) "Assassin" (1988)
3. Soothsayer (Canada) "Build the Terrorism" (1986)
4. Burnt Offering (USA) "Power of Death" (1989)
5. Hobbs' Angel Of Death (Australia) "Cold Steel" (1988)
6. Toxodeth (Mexico) "Black Doom" (1988)
7. Dolmen (USA) "The Ritual Night" (1989)
8. Pentagram [Mezarkabul] (Turkey) "Intro (Wreck)/Rotten Dogs" (1990)
9. Messiah (Switzerland) "Hyper Borea" (1987)
10. Ulysses Siren (USA) "Above the Ashes" (1987)
11. Infernäl Mäjesty (Canada) "Into the Unknown" (1988)
12. Sindrome (USA) "Rapture in Blood" (1987)
13. Anacrusis (USA) "Imprisoned" (1988)
14. Sacred Reich (USA) "No Believers" (1987)
15. Nasty Savage (USA) "Fear Beyond the Vision" (1985)
16. Lääz Rockit (USA) "Last Breath" (1987)
17. Demonax (USA) "Evil's Cast Aside" (1984)
18. Holy Terror (USA) "Debt of Pain" (1988)
Download at this Mediafire link or visit the original blog post for more information.