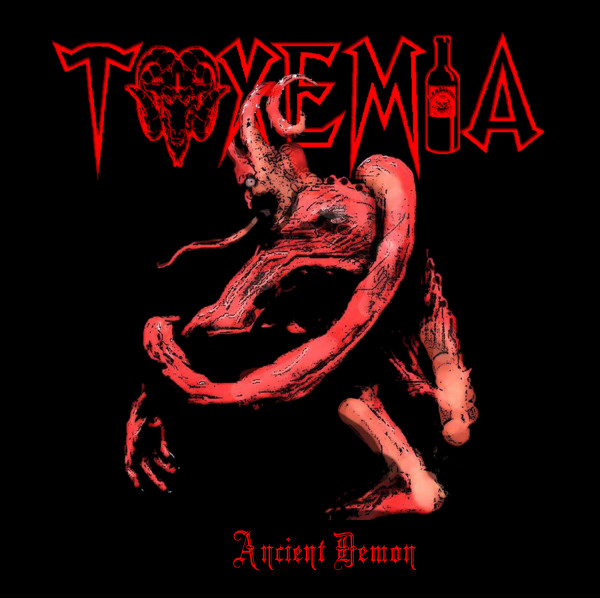 Underneath the trappings of an underground death metal band, Toxemia create 1970s-style doom metal, formed mainly of heavy metal elements but incorporating stylistic influences from a variety of darker shades of underground metal, most notably Autopsy Mental Funeral.
In chord progressions, song structure and lead guitar, this album most closely resembles what might happen if old Saint Vitus crossed over with a primitive proto-death metal band like Master, albeit at the slower tempi necessary for doom metal. Each song features a riff loop for verse and chorus with discursive riffs and use of both freeform lead guitar and rhythmic lead guitar overlays to distinguish the song. Clear themes emerge and while tonally there are few surprises, the arrangement of these familiar elements in forms that fit the particular worldview of this band makes these tracks interesting. While the underground metal influence can be seen in tremolo technique and layering of drums and guitars around a tempo change in the death metal style, the essence of Ancient Demon remains in the hard rock/heavy metal roots of the first generation of doom metal bands.
Experienced listeners may find some kinship here with the first Varathron album which also took a theatrical approach to traditional heavy metal and created dark atmospheres which both fulfilled expectations of that genre and distorted them into outsider commentary on the conventions themselves. The use of doom-death technique accelerates this band past most of the bands heading backward in time in the doom metal genre, but its spirit remains in that ideal and its execution is both faithful and inventive.
Tags: Doom Metal, doom-death, Heavy Metal, toxemia