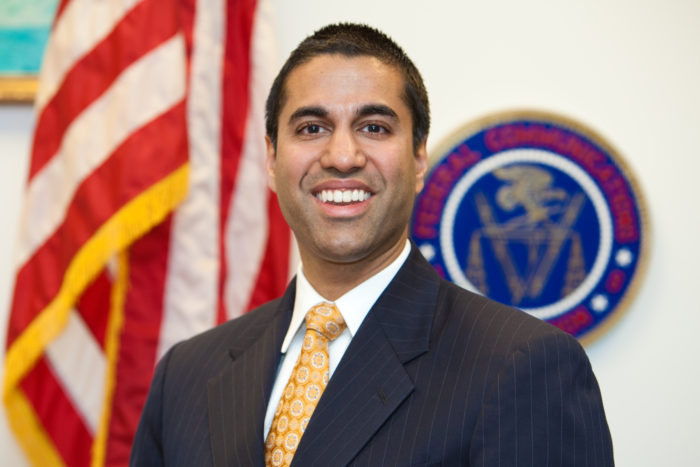 President Donald Trump, who nixed his predecessor Barack Obama's transfer of American wealth to rice paddy waders for the benefit of plutocrats through the Trans Pacific Partnership, followed Obama's example and appointed a corporate stooge for the telecommunications industry to head the Federal Communications Commission. Ajit Pai replaces the retiring Tom Wheeler who was head of both the the National Cable & Telecommunications Association and the Cellular Telecommunications & Internet Association which both previously lobbied on behalf of large telecommunications providers against net neutrality, one of the founding principles of the internet. Ajit Pai sat on the board and has opposed all regulations and rulings in favor of consumers, supporting the right of internet service providers to censor and throttle content to their customers' connections.
Net neutrality is the idea that internet service providers may not throttle or bottleneck content from privileged networks. This prevents ISPs from bundling in their own services to force feed the public whatever lowest common denominator crap and propaganda the ISP chooses or holding up content providers for money beyond what they pay for bandwidth to deliver their content to their customers or audience. Without net neutrality, ISPs would be free to censor whatever they so please as they act as the final gatekeepers to their customers. Content viewed as morally questionable by religious fundamentalists, Marxists, plutocrats, and oligarchs could easily be censored. For elitist underground music fans, this could put large portions of the underground canon and their best sounding but out of print masters out of reach to all but the elderly, middle-aged, and record store bin hunters searching for four-leaf clovers.
The potential for truly fascist action exists if the FCC becomes fully beholden to the agenda and whims of a few large corporation overlords. Fascism, like communism, is a failed totalitarian redistributive economic system based on a delusional idealology where the state steals the existing means of production from private entities and hands them out to its political stooges and sycophants who proceed to run them to the ground for short term gain. What does that make modern American corporate practice favoring short term, shareholder profits over all else, including the continuous long-term profitability of the corporation?
Fascism should more properly be called corporatism because it is the merger of state and corporate power.
– Benito Mussolini
Tags: barack obama, censorship, donald trump, fascism, fcc, internet, internet drama, net neutrality, politics