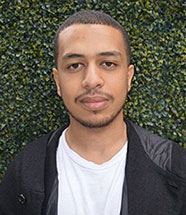 Ali Habib, co-president of the Student Union for Democracy and Education at the School of Oriental and African Studies of the University of London, has called for the removal of European philosophers from the curriculum. He and his student union have demanded the University drop Plato, Descartes, Kant, and Russel simply as they were white in order to "decolonize the University" and "confront the white institution." The multicultural, anti-European students wish to only study philosophy from a "critical standpoint" so that they may sieve out all European thinking through "acknowledging the colonial context in which so-called 'Enlightenment' philosophers wrote within." Ali Habib (pictured above), the Yemenite student officer responsible for the statement, is a known supporter of Marxist anti-colonial philosopher Frantz Fanon who died of leukemia while fighting for the Algerian National Liberation Front
Philosopher Sir Roger Scruton responded:
This suggests ignorance and a determination not to overcome that ignorance. You can't rule out a whole area of intellectual endeavour without having investigated it and clearly they haven't investigated what they mean by white philosophy. If they think there is a colonial context from which Kant's Critique of Pure Reason arose, I would like to hear it.
Sir Anthony Seldon, the vice-chancellor of Buckingham University:
"There is a real danger political correctness is getting out of control. We need to understand the world as it was and not to rewrite history as some might like it to have been."
The Death Metal Underground advises Ali Habib that if he truly wishes to experience life without the influence of and advances due to Western thought he should:
Move back to Yemen. What would his chances be of reaching Great Britain without the modern transport by sea or air developed by those of European descent?
Never read or write anything more than his name or his mark again. No Gutenberg, no mass media, no literacy for the common man, no public education.
Defecate in a hole in the ground if his locality even dug latrines. No public sanitation.
Clean his nether regions with his left hand, never cleaning it other than to visually remove the feces and for Islamic ritual absolution. No germ theory.
Accidentally infect himself with E. coli. There was no germ theory or perceived reason to wash the hands with soap regularly.
Die of dehydration due to dysentery. We've all played Oregon Trail. There were no Western medical discoveries such as antibiotics, Imodium, or Kaopectate.
Keep in mind that there is a civil war and mass starvation in Yemen right now. In a society characterized by low level tribal warfare and periodic famine, could Ali Habib scavenge up enough daily kilocalories to sustain himself? Habib selectively embraces the Western philosophy that says he deserves a free lunch. A mediocre lunch, but a free one for leeches like him. What would happen if he begged for a free lunch in a stratified pre-modern tribal society with a rather low life expectancy for adult males, who tended to meet a violent end in constant skirmishes? "Zug-zug, back to work!"
Tags: academia, censorship, communists, diversity, Philosophy, racism, united kingdom