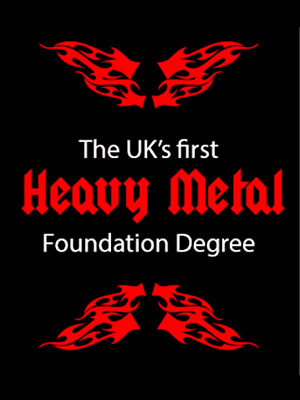 New College Nottingham in the UK have recently announced that from September this year they will be offering students a foundation degree in Heavy Metal.
"We've created this pioneering course in response to student demand and Nottingham's growing music and creative economy. At its heart is music performance so students will be forming bands, gigging and promoting, while academically delving into what makes metal such a music phenomenon. Applicants will be auditioned and will need to demonstrate an ability to play or sing up to Rock School, ABRSM or Trinity Grade 5 standard and have knowledge of music theory at ABRSM Grade 5," the school announced in its class syllabus.
Further, New College opined, "Due to the largely unstructured nature of the music industry, the FdA in Music Performance (Heavy Metal) places a strong emphasis on the development of entrepreneurial skills designed to allow the students to work confidently on a self-employed basis."
As supportive as I am of the growing area of metal studies in academia, this course sounds like a terrible idea – unless of course it consists of 21 hours a week forced listening to and analysis of Demilich's Nespithe, in which case it's worth every penny.
A budding metal musician would be much better off getting a degree in music – whether at a predominantly classical or jazz institute, they will get a much broader grounding in the theory and history of western music, and thereby understand better which bands and ideas are good and which are garbage. By the way, for those that don't know, Grade 5 Rock School is not a very high benchmark for musicianship at all.
I'm sure that the college believe they are helping facilitate people into a niche and commercially lively area of the economy, but I wouldn't be as optimistic as they are.
Its been a long time since the UK produced a viable classic metal band that could draw in a consistent crowd (let alone produced a noteworthy scene or movement), so its hard to think of a stable, growing sector in the UK metal economy other than Iron Maiden's stage crew. Remember also that most metal musicians the world over will at least have to supplement their income with other work, if not wholly support their music through a day job. It's also not as though, when business is slow, you can go play a few weddings or open mics when your stock repertoire consists of Slayer songs and originals that are probably only Slayer rip-offs.
I could of course be completely wrong about it; but if it were my kid choosing their degree — £7,000 a year for something that will only look bad on their CV — I don't think I'd be too quick to let them test out the possibility of me being mistaken.
No quality metal band before now ever required this qualification to propel their career in the right direction or provide them with worthy scene credentials, and that will probably remain the case.