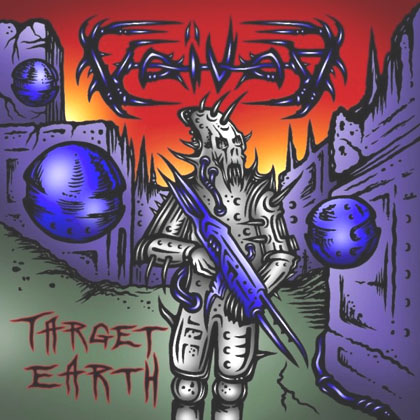 Quebecois metal gods Voivod have released a preview of the title track from their forthcoming album Target Earth.
If the two tracks released so far are any indication, then the album sounds exactly as the promo blurbs have been describing it (which makes a change): a cross between the claustrophobic, spacey weirdness of Dimension Hatross and the rockier, more mid-paced Nothingface with a touch of the sing-songy style of Angel Rat.
Unusually for a band of Voivod's stature, their decision to continue touring and making albums after the death of original guitarist Piggy has been greeted mostly positively. This is probably because his stand-in, Dan Mongrain, at times sounds more like Piggy than Piggy did; studiously recreating the tone and feel of classic Voivod whilst helping craft new material faithful to the era of the band most people always wanted to hear continued.
The album is released in Europe on January 21st and in North America on the 22nd. Eagerly awaiting this one.
Full tracklist for album is as follows:
1. Target Earth
2. Kluskap O'Kom
3. Empathy for the Enemy
4. Mechanical Mind
5. Warchaic
6. Resistance
7. Kaleidos
8. Corps Étranger
9. Artefact
10. Defiance