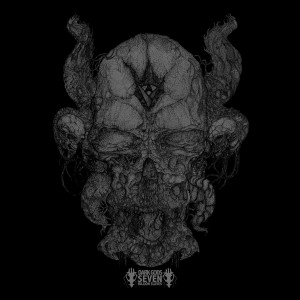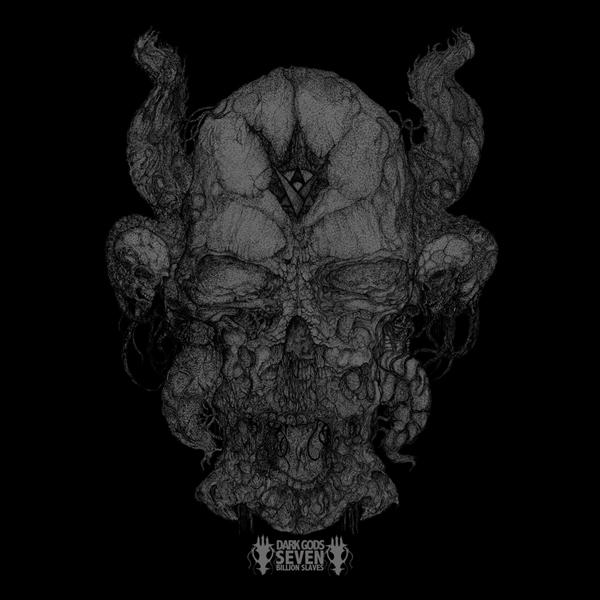 Von gained fame for the ultra-minimalist droning 1990s album Satanic Blood which raged forth in three-note songs that resembled air raid sirens of the soul going off in an infinite night of bestial darkness.
Returning after a long hiatus, the band conjure up Dark Gods: Seven Billion Slaves to bring us the greatest of rarities in metal: an honestly experimental album. Most "experimental" albums involve recycling avant-garde and progressive rock themes of the 1970s, but there isn't anything at all like this album.
Perhaps recognizing that repeating the past would be tame, Von have instead chosen to make a form of ritual music that sounds like a collision between black metal, later Danzig and a horror movie soundtrack. The songs are just as simple but more musical, and are generally played more slowly but have a stronger sense of developing theme.
Like a soundtrack, these songs are designed to fade into the background and influence mood rather than command attention. Much like a few repeated notes signal a dark theme ahead in a movie, these songs use very similar melodies to horror movie soundtracks and presage a limitless and expanding fear. The mood is similar to Profanatica's Profanatitas de Domonatia or Demoncy's Enthroned is the Night. Much as in a horror movie we watch the characters go into the room where evil lurks, or prepare to yank aside the curtain covering what they fear, this album exudes a menacing sense of impending and inexorable threat.
Percussion works in a way that is rarely seen outside of opera. Its timekeeping functions are present when the music is uptempo, but for slower pieces it forms pure mood, a clomping footstep like the tread of an executioner. Guitars play very similar patterns repeatedly and nearly constantly, but are frequently overlaid with background chaotic noise that like distortion itself brings out submerged harmonics and gives the music added body and menace.
Melodies themselves sound like horror movie music tinged with the more listenable vein of occult or dark rock, sounding sometimes like Danzig's later works and sometimes like the Sisters of Mercy. They fit together well and evoke moods clearly and strongly, which makes this album more interesting for repeated listens than Satanic Blood. The ritual nature of the pacing of song development, coupled with the uncanny ability that vocals had on the first album to trigger a sense of dread and despair by offsetting rhythm like an attacker outside the law, builds momentum behind this atmosphere.
Dark Gods: Seven Billion Slaves is going to take many by surprise. It's sparse, meaning that it's not a constant wall of sound; it is often slower and more theatrical; it is complex in that many simple riffs together tell a story more than cyclic complex riffs can. It is experimental, in that while this style could be called black metal, there's a lot more going on, but unlike "kitchen sink" bands who throw in other genres at random, everything here is fused into one consistent and expressive style.
While this may not deliver conventional metal thrills, Dark Gods: Seven Billion Slaves shapes its minimalistic riffs into a changing atmosphere of morbid curiosity and onrushing fear. The result is overwhelming, like a vision of hell brought to earth, and with its convoluted and esoteric patterns shows us darkness revealing itself before our eyes, while we stare at the screen too scared to scream.
Tags: Black Metal, von