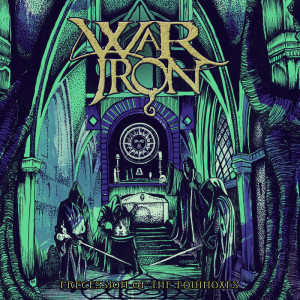 War Iron released their first album in 2010 with the explicit intention of making pulverizing heavy music and creating bone-crushing riffs. If they accomplish the first of these is up to each particular listener to decide, the second is true by the very nature of slow-tempo, duple-time patterns played in de-tuned guitars with incredibly fat but clear distortion. But music with a profound and long-lasting repercussions, that is, with depth, relies on its concrete and intrinsic (rather than an external argument for possible) multiple levels of appreciation, which go beyond attributes of heaviness.
As the sharp observer of metal artwork covers may notice, the colors and penmanship of Procession of the Equinoxes are a fair warning of what this music is and what it is not. The lyrical topics are a cartoonish and theatrical representation of topics deemed occult and dark in popular culture. It is then no surprise that the music is consistent with these as well. Sludge (a slow counterpart to the vacuous Stoner) riffs march in procession. One by one they march. They do not talk to each other, they do not communicate anything. They do groove though. And they groove heavily. And then the album is over.
Fans of intense and heavy riffing, slow trudging music and a cool, and dark atmosphere that feels like the music accompanying a recitation of Evil Dead's Necronomicon will love this for its uncompromising devotion to heaviness.
Tags: 2015, procession of the equinoxes, sludge, stoner, war iron