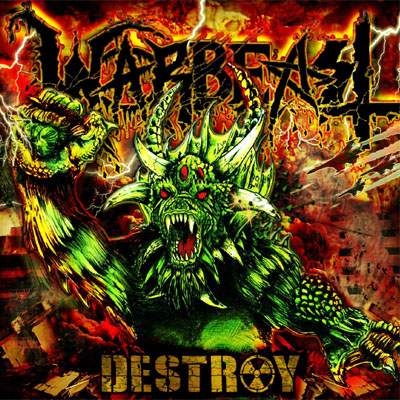 The second album from Warbeast meets metalhead speakers with great expectations because the personnel involved have such a history of metal on the edge of mainstream that still retains the intensity of the underground. Destroy fulfills all of that promise.
Rigor Mortis vocalist Bruce Corbitt joins with four local musicians of renown to create a band that upholds the ideals of the past but modernizes its sound. On 2010's Krush the Enemy, the band ventured more into a modern metal sound that verged on deathcore at times, but Destroy goes back to the roots and makes speed metal with the added pummeling technique of later death metal.
Destroy sounds more like Exodus crossed with Slayer and a few instances of the classic Rigor Mortis high-speed melodic sound. The choruses are dominated by the chanting aggressive voice of Corbitt, who sounds like the vocalist Philip Anselmo (who produced this album) wanted to be for Pantera. Choruses are less "spoken" and closer to death growls.
If this album has a fault, it's that it's too relentless, such that after a half hour songs start to run together because they are all turned up to 11. However, the appropriately vicious and complex guitar work provides enough depth to fill out these songs and keep the listener wanting more. The good things is that unlike post-Pantera experiments, this band doesn't rely on groove or rock-style bounce, but on pure metal cadences and ripping speed rhythms.
Where many bands have tried to modernize the 1980s speed metal sound that made Metallica, Pantera, Exodus and Prong big names, Warbeast accomplish this through going back to the roots of metal and keeping it intense instead of trying to get bouncier or groovier. The result is an album that ties together past and present into a single extreme package.