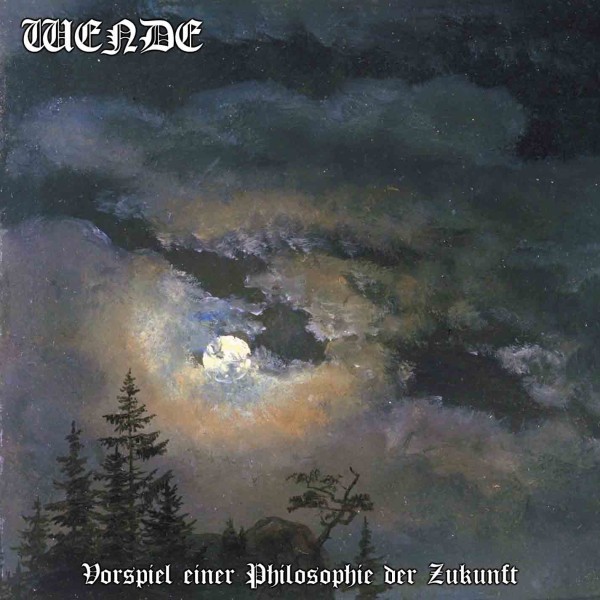 Tagged as black metal and ambient, Wende is a one-man project that attempts to not only appropriate Burzum's style, but also build on it, effectively using it to express something different.  In this release we find riffs that are not right out of early Burzum, but that one could easily associate with Hvis Lyset Tar Oss. But the approach is not smooth and layered as in that album. There is a diversity of expressions in Vorspiel einer Philosophie der Zukunft but it is presented as a series of pictures which are not necessarily strongly connected to each other in a musical way, requiring the listener to make somewhat of a leap and follow the song by maintaining the emotion and atmosphere in mind. In regards to this organization, this album is more similar to Filosofem, more ambient-oriented. It even has the long dungeon synth sections and songs.
Although the subtlety of Burzum is not lost on Wende, and patience is certainly not lacking in this release, the savant genius of Vikernes makes all the difference in the world. The strong link that one can find between Master Vikernes' riffs and how his songs build up and flow is completely missing here. On the other hand, there are very good riffs that morph naturally over relatively long stretches of time. Riffcraft here is good, but evocative songcraft may fall a tad of the magical offering Varg made to the gods again and again.
The synth music in this release  is not allowed to sink into the listeners mind as Tomhet does, slowly extending only to fade away ever so gently. Wende integrated the synth ambient music as sections within metal instrumented songs and experimented with the possibilities this might open. The risks of this decision are not small and the strength of the final creation was visibly affected by it.
Props to Wende for not falling into the trap of being a clone of the band he admires. He took it and ran his own way, attached his own ideas, and made what he deemed were corrections of some sort to the weaknesses in Burzum's music. The intention is worthy of praise, and the end result is interesting. The end result ofVorspiel einer Philosophie der Zukunft is not on par with the masterworks of the Norwegian sage, but it is an outstanding disciples' effort worthy of attention.
Tags: 2015, Black Metal, burzum, debut, Filosofem, varg vikernes, Vorspiel einer Philosophie der Zukunft, Wende