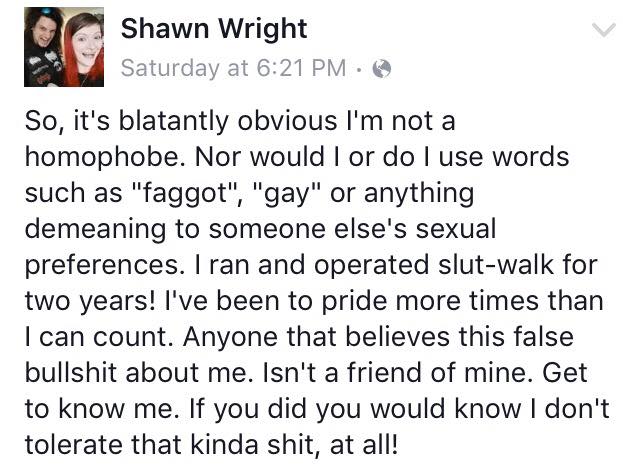 How did this all start?
To the best of my knowledge this all began when the singer of Bestial Evil (Shawn Wright) suddenly became aware of a Facebook status I made approximately 7 weeks ago from the time of this writing, about how the band should be dismissed by fans of Metal, because in my opinion they aren't any good. Simple as that! We got enough awful crap around here as it is. That being said I never accused them of anything other then being posers, no trigger warning required hahaha. I am not alone in this low opinion of the group either.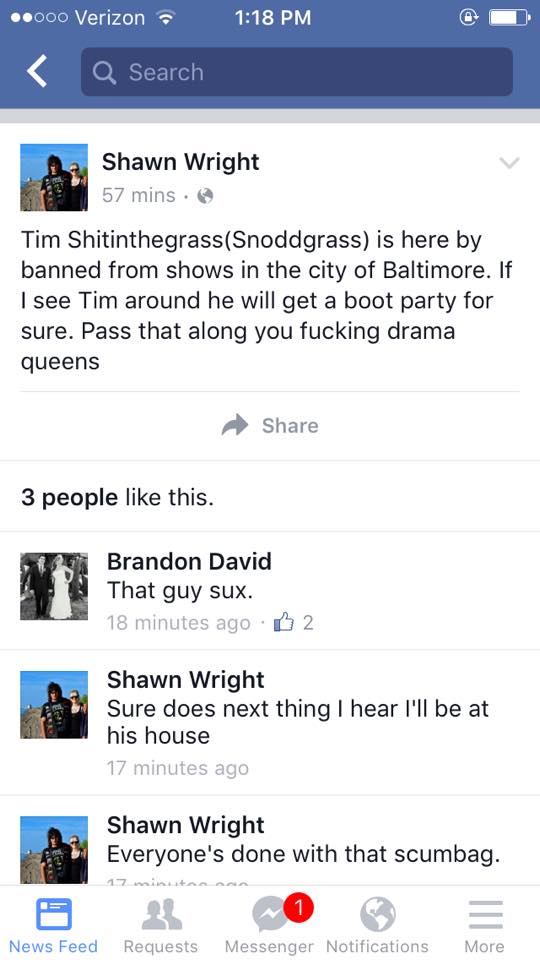 Apparently receiving criticism is not one of their strengths however, so they started a smear campaign complete with all the usual name-calling and threats. I want to point out that it was a private post that I made and only my friends could see it… so how exactly it came to the attention of the people in question is unknown to me, probably a screen shot or word of mouth. I don't care. I wasn't hiding it from anyone in the first place and I still stand by what I said too. Bad's bad and good's good, tough shit. This is Heavy Metal, not a reality TV show where you get a prize at the end from Carson Daly. There is already a band from Italy named Bestial Evil anyhow so that just goes to show you they didn't even do their homework in the first place.
How did these guys try to rally an internet army?
Again, social media was involved, like always. Facebook to be specific. A concerned friend showed me a post made on Shawn Wright's Facebook page inciting a "boot party" if anyone ever saw me out somewhere and proclaiming that I was to be "banned" from the city of Baltimore, that he was gonna come to my house, etc.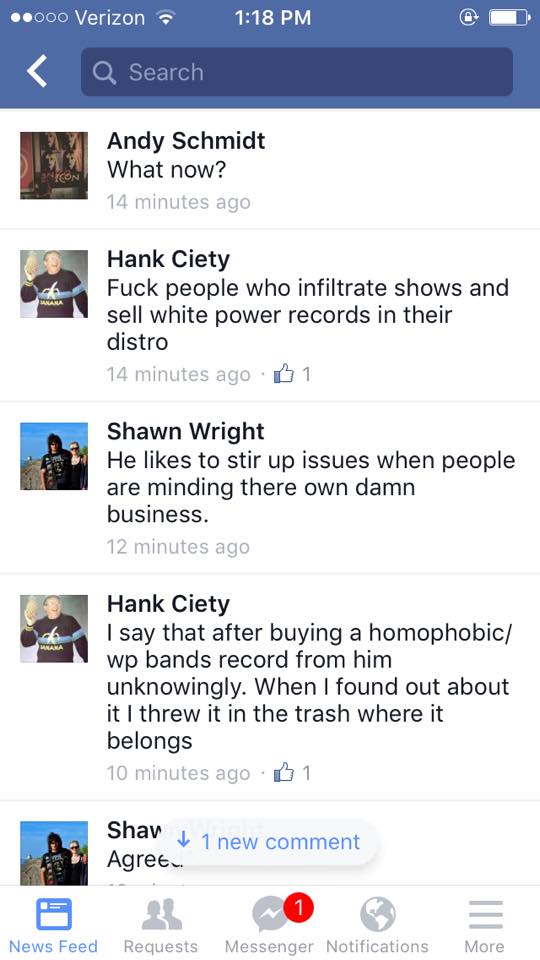 This was based on accusations brought on by Shawn himself that I am a homophobic/neo-nazi or some other completely unfounded nonsense like that. One person even commented that I "infiltrate shows" to sell white power music, which is an outright lie. People ask me to vend at shows very often, I never have to sneak in, let alone with the intent to slip some poor unsuspecting SJW a skinhead album or whatever. The whole thing is totally absurd.
Anyhow, not long after this stuff was brought to my attention I started to receive threatening calls and texts to my phone from Shawn himself. None of which I ever replied to. The voicemails have been recorded and saved though, as well as any other evidence of threats against my home or person. So if anyone does do something stupid I have evidence of a conspiracy I guess. They have done some tidying up on the band page it seems, I think their attempt to raise an army has faltered for now.
Is there truth to their accusations that you run a white power friendly distro?
Absolutely not. While I personally do not believe in censorship of any kind, especially with regards to music and art… there's just nothing in there that qualifies. The merchandise and albums that I sell span across multiple genres of extreme music, everything from black and death metal to harsh noise and grind, but there's no "white power" bands…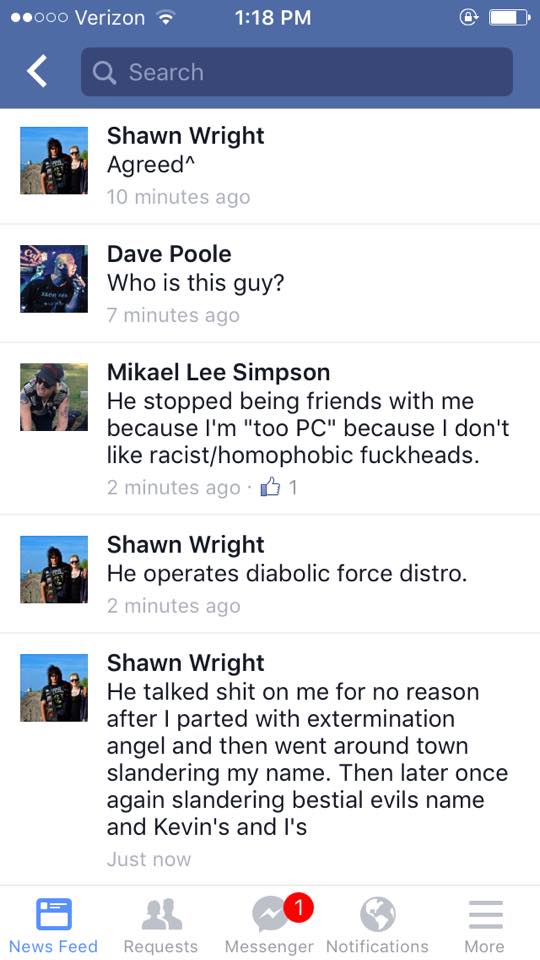 The thing they have accused me of is totally baseless and merely an attempt to incite a witch hunt against me to fulfill a personal vendetta and stir up trouble. People of this SJW/hipster type of mindset seem to always invoke these things to try rally an angry mob as a means to carry out intimidation tactics or make it seem like they're in the right because they got a couple hundred views on their webpage. You see it more and more as of late.
What have they threatened you with? Do you think they can accomplish it?
I was told multiple times that I would be visited at home, that they would kick down my door and "destroy my life", and then there was the foolish claim that I was going to be sued for "defamation of character and distributing hate material". Loads of ignorant threats and boasts were made. I welcome any legal action from them, as I am sure the courts would like to hear the voicemails that Shawn left on my phone, threatening me with home invasion. And as for the defamation of character thing, I am pretty sure they just did that to me so good luck getting that charge to stick.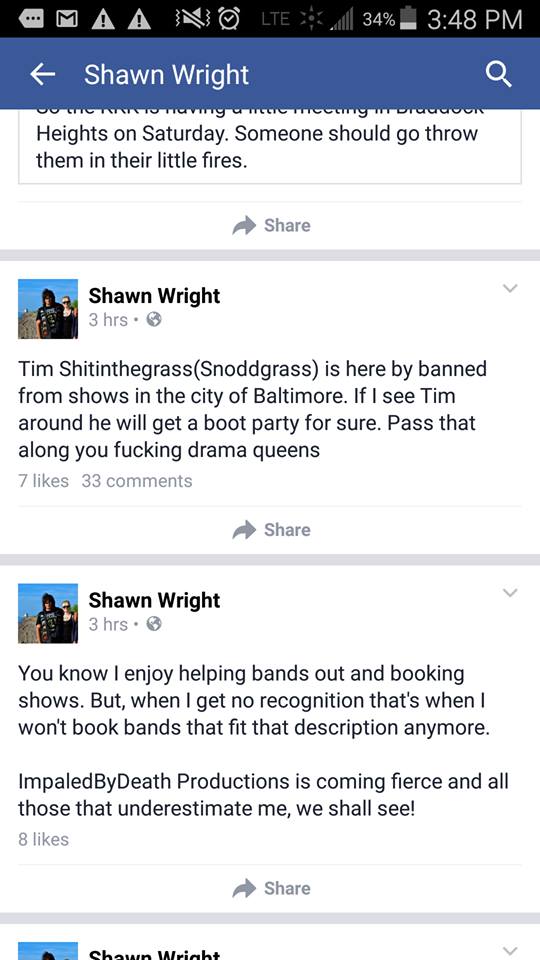 Personally, I do not think they can actually accomplish these things, especially the part about being sued, but I am not taking it for granted either. That's not the sort of thing you joke about. I am prepared for all eventual outcomes of this retarded comedy.
What are your distros/bands/projects that people can support?
For over ten years now I have been proactive with music in the Baltimore Maryland area in some way or another, although I do not reside in or claim the city. I was in a weird band a long time ago but I don't play anymore, there's too many bands and not enough fans anyhow, I would rather be a fan. I printed shirts for local bands and old school heavyweights like Blood Storm, Nunslaughter and Gravewurm for many many years… and I used to book concerts in Baltimore sometimes but I have taken a hiatus from organizing live events. My label/distro is called Diabolic Force Distribution, the purpose of which has been and always will be to support underground bands and zines get out there to the maniacs that need it.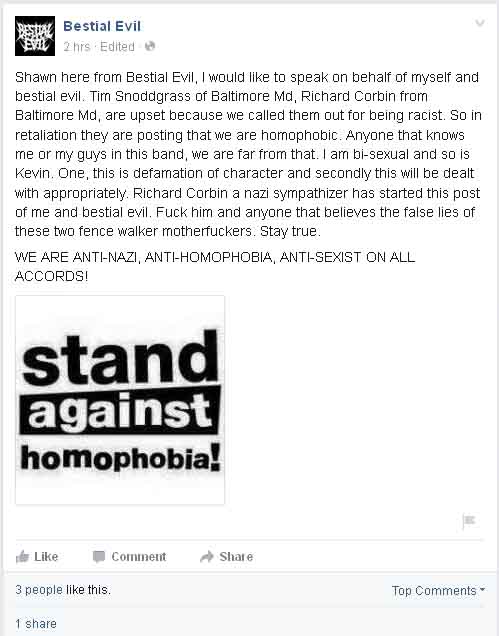 Heavy Metal isn't about fashion or climbing the social ladder, it's a way of life. It's outsider art and it's meant to be challenging and dangerous. Diabolic Force likes to do things the old-fashioned way because I believe in the life force of the music itself and the people in the trenches fighting to keep it real. Diabolic Force will always offer support to those individuals and bands who hate posers and love Satan. Our motto is "Support the underground, bury yourself."
Tags: bestial evil, censorship, diabolic force distribution, shawn wright, tim snodgrass