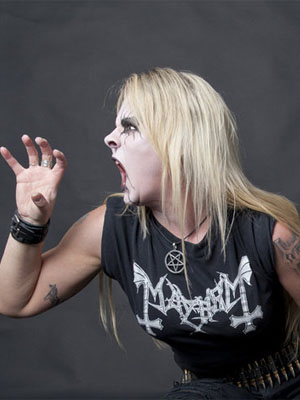 Since metal is caught within the regime of popular entertainment, it speaks the language of socialization exclusively. Thus, if you have an unpopular opinion, it's because you're mean or a douchebag. Thus it is that people frequently refer to people who have standards as "douchebag elitists."
Listening to a release by what I'll call a respectable band, I was reminded of the reasons for my douchebag elitism. This CD is after all mostly right. It has all the right elements, knows the conventions of the genre, and has a number of sentiment and somewhat obvious but effective riffs. Should be good, right?
Except that it's not good enough. It's close, but not the same. Where Graveland — its primary influence — had a unique personality and a clear direction, this respectable band is derived from Graveland and Darkthrone and that basis is audible. The basis for Graveland was reality itself; the basis for the respectable band is music.
As a result, it misses on what black metal was. Even more importantly, it misses out on a standard of quality that lets blackmetal be of that level. When we are elitist, and admit only the bands which have a distinct and amazing perspective on the world, we see the genre as it is: the product of independent minds with purpose.
When we let that purpose fall, and allow those who simply want to partake of that vision to be part of the genre, standards plummet. Those bands are imitating from outside and trying to reproduce what was, but in doing so, they're losing the most essential part of it, which is its motivation as a whole.
For a band to be black metal, it needs to discover the motivating ideas that made black metal what it was. Then, it must have its own take on those ideas, and in addition to that, do what everyone can do these days, which is play well and have good production.
It's interesting how few people are actually required to make a genre. Graveland is immortal; while Woodtemple sounds good at a distance, and I know from the word of close friends that the person behind it is a good fellow, it would be an adulteration and sacrifice of what black metal is to endorse this album.
Tags: Black Metal, elitism, orthodox