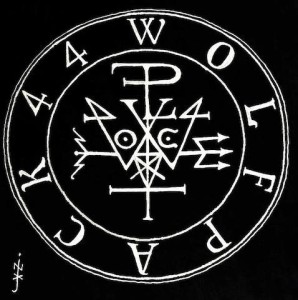 A new occultist extreme music entity composed of members of Electric Hellfire Club and Kult ov Azazel, Wolfpack44 has begun to record and release material, starting with the professional "Rituale Romanum."
This song combines the heavy metal stylings of Dissection with raw black metal and pounding industrial, creating an entity that cycles between different moods like an initiate traversing different rooms in an ancient temple. It moves from elegant acoustics to blanching punk hardcore/black metal/industrial hybrid verses that sound like the ranting of the propaganda of hell, and then finds mediate ground in black metal riffs with heavy metal flourishes.
Probably destined to be known as much for its members' thoughtful and practical approach to the occult, Wolfpack44 nevertheless makes good on the disorganized underground by taking a middle path, and then upgrading it to higher levels of professionalism. This song fits together tightly and leaves a lasting impression, which is more than we can say for the flood of black metal generics.
Further, this style shows a better way to incorporate the melodic side of black metal, best exhibited in Dissection who were primarily an Iron Maiden-styled heavy metal band, than by making the entire song melodic. Instead, melody is used as one more technique in a palette and thus gains intensity where otherwise it wears out its welcome.
"Rituale Romanum" is from upcoming Wolfpack 44 album The Scourge which is being recorded by Ricktor Ravensbruck, guitarist for Electric Hellfire Club, Wolfen Society and Acheron, along with Julian Xes of Kult ov Azazel, with guest appearances by Jinx Dawson (Coven), Reverend Thomas Thorn (Electric Hellfire Club), Dana Duffey (Demonic Christ) and members of Dark Funeral.
http://www.youtube.com/watch?v=b7xTHpO1pFg&feature=youtu.be
Tags: Black Metal, dark funeral, demonic christ, electric hellfire club, kult ov azazel, wolfen society, wolfpack 44