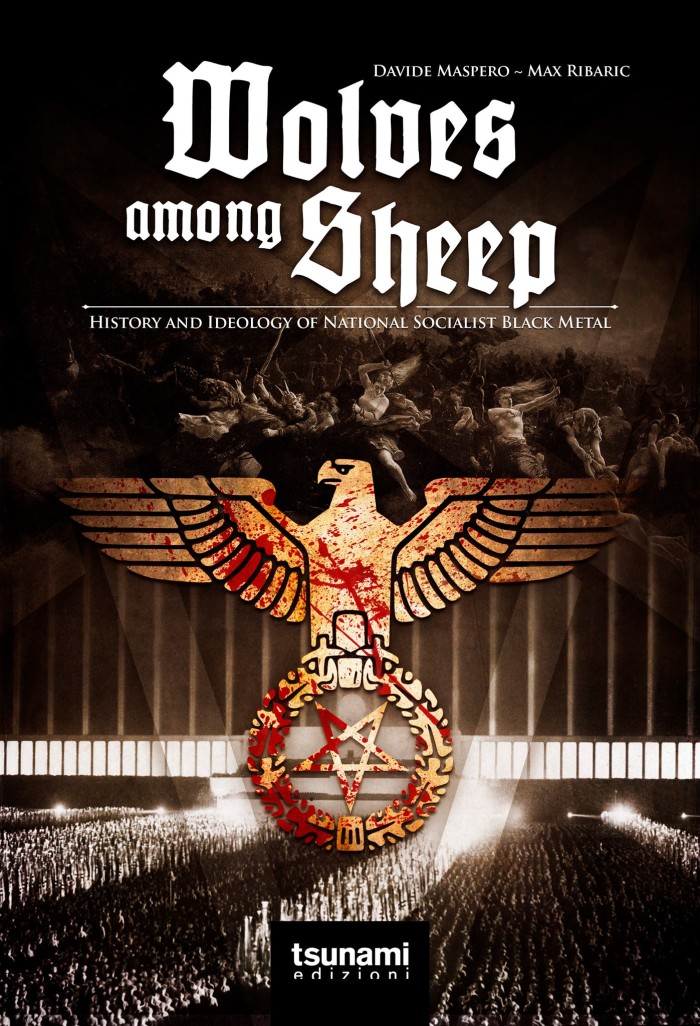 Italian publisher Tsunami Edzioni has released Wolves Among Sheep: History and Ideology of National Socialist Black Metal, a book by Davide Maspero and Max Ribaric detailing the rise of this tributary of the black metal movement that officialized many of the right-wing and traditionalist leanings of black metal as a whole.
The publishers offer the following FAQ about the book and how to obtain it:
We've been silent for some time, but that's because we have been busy sending orders and replying to e-mails. The response to the book has been great so far, and we thank everyone who purchased a copy.

We compiled a brief FAQ for all those who need some information regarding the book and how to obtain it. We hope you'll find it helpful.

IS THE BOOK IN ENGLISH?
Yes, it is. The whole of it.

IS THE SPECIAL EDITION STILL AVAILABLE?
Yes, we still have some copies left.

HOW MUCH DOES THE BOOK COST?
It depends on where you're located.

Standard Edition:
Europe and Mediterranean Basin – 38 Euro
Americas, Asia, Africa – 43 Euro
Oceania – 50 Euro

Special Edition:
Europe and Mediterranean Basin – 46 Euro
Americas, Asia, Africa – 52 Euro
Oceania – 60 Euro

HOW CAN I ORDER?
By making a Paypal payment to: info[at]tsunamiedizioni.it

HOW CAN I GET IN TOUCH WITH YOU?
Via Facebook messages on this page or via e-mail to: wolves_info[at]tsunamiedizioni.it

I NEED TO BUY MULTIPLE COPIES, CAN YOU GIVE ME A
SHIPPING QUOTE?
Yes. Just mention it in your message and we'll get back to you.

I RUN A DISTRO AND NEED TO KNOW YOUR WHOLESALE RATES
Just mention it in your message and we'll get back to you.

WHEN ORDERING, PLEASE STATE CLEARLY YOUR FULL ADDRESS (NO P.O. BOXES – WE SHIP VIA EXPRESS COURIER AND THEY NEED A STREET ADDRESS) AND A TELEPHONE NUMBER.
National Socialist Black Metal (NSBM) remains controversial because global civilization has shifted leftward since the late 1940s with the fall of fascist regimes in Italy and later France, National Socialism in Germany, and Nationalist movements in Japan. However, starting in the 1990s when the 1968 generation took power in politics and media, a counter-movement has arisen which is critical of democracy, equality and diversity.
Sometimes this movement is merely anti-liberal, as with Michel Houellebecq in France, or libertarian as with the Tea Party and Neoreaction, but often it takes a more potent form. The original black metal bands from Norway, Sweden and Finland embraced the idea of nationalism, or a society being defined by its indigenous people, and rejected the morality of pity, equality and pacifism. Others took this farther and explicitly endorsed the older belief systems, not just National Socialist but the traditionalism of Julius Evola, the nationalism of pre-war Europe, and the monarchism and naturalism of völkisch conservatism.
During the early 1990s, when this material first emerged, I was unwilling to play such bands on the radio when I learned of their beliefs. Later digging found the nationalism of Bathory, the pro-Hitlerian sentiments of Morbid Angel, and the generally conservative — realism plus a belief in transcendentalism — surging through heavy metal. Then came Lords of Chaos and the interviews of Varg Vikernes, tearing the lid off any obscurity that black metal had regarding its anti-humanist views. For that reason, I report on them as they are part of the black metal movement and heavy metal, and it is better to have such things in the light than darkness.