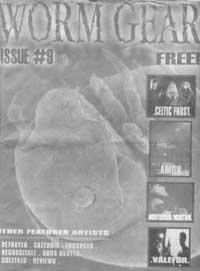 Worm Gear Zine has officially relaunched, with 19 reviews and new interviews with Agalloch and Forefather! We know it has been a long time, but we are excited to have revived this stalwart bastion of extreme music. Expect more frequent updates and more of the quality writing you've always depended upon. We welcome all readers to this resurrected endeavor, and are eager to hear your thoughts and to get your participation in our ongoing discussion of the underground. And don't forget to follow us on Twitter as well!
From our original review of Worm Gear zine back in 1998:
Professional layout belies the depth to which this magazine sinks into the underground, asking up-front questions in a variety of reviews, features and interviews. Excellent coverage on an individual basis of those bands and individuals lucky enough to be featured in this solid zine from Michigan.