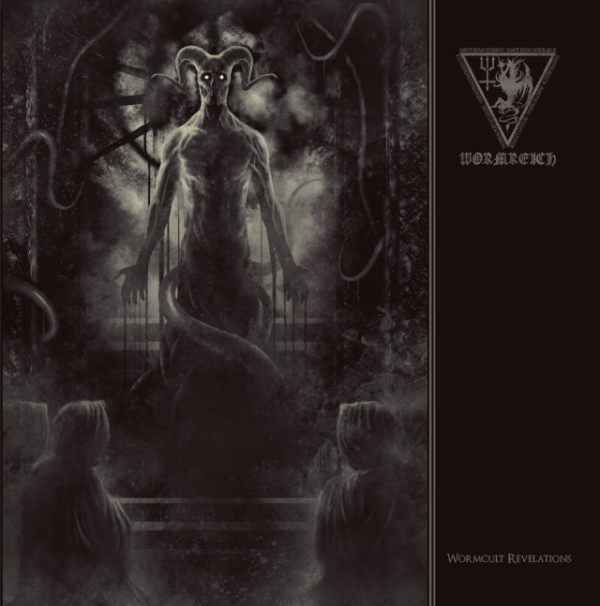 In darkness heavy metal finds its greatest friend. From the ominous tritone of Black Sabbath to the most vicious and bestial extreme metal of the modern day, diving into the abyss to find meaning has been metal's clarion call. Keeping true to that paradigm, and displaying the ability to build upon it, Wormreich have crafted an EP of atonal black metal titled Wormcult Revelations.
Standing above ordinary circular composition, Womreich use leitmotifs if even on a small scale to expand the power of experience in this work. The narrative of this EP reveals itself through four songs which share returning ideas across the album, like a Satanic opera concluding in sinister victory. Cold and dark riffs, like a gathering of fervent souls brought together to recite the devil's gospel, enclose this stygian mood. The dark, horror-like atmosphere of this EP separates this band from similar acts. The two instrumental keyboard tracks, "Shaare-Maveth" and "Codex Lvciferivm" use the dark-ambient style to emphasize that murky atmosphere.
Wormreich succeed in delivering a batch of haunting and devilish black metal similar to the likes of Aosoth, old Watain, and Deathspell Omega. Wormcult Revelations leads you through a whirlwind of smoke and fire for an authentic ritual experience.
Track Listing:
I. Revelation I: Vox in Rama 2:30
II. Revelation II: Serpents of Choronzon 7:06
III. Shaare-Maveth 1:57
IV. Revelation III: Devotion's Final War 7:15
V. Revelation IV: Enim Satanas Meum Sanguinem 7:25
VI. Codex Lvciferivm 5:08
VII. Malign Paradigm [Deathspell Omega cover] 4:45
Tags: Black Metal, USBM, wormreich