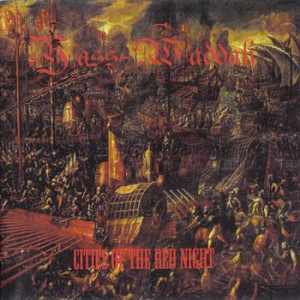 Rising from Italy, Yass-Waddah play modern black metal in a style well suited for live performance. Simple, straightforward songs with coherent progressions bring about the merging of black metal techniques with heavy metal ethos, similar to Gorgoroth or Marduk.
Production wise, Cities of the Red Night (it's unclear if this is named after the William S. Burroughs novel of the same title) has quite a clear sound for the genre: all instruments are audible and individually identifiable in the mix. Some may prefer this, as it avoids the "live from the sewer" feel of older black metal records, but others will lament the loss of the cold atmosphere so unique to black metal.
Musically, the band hits all the right steps of a band aiming to be invited to Wacken: Succinct tracks charge forward with a well-coordinated assault of blastbeats, high-pitched vocals, in addition to riffs constructed from melodies created by moving minor chords around the fretboard , which give the songs a focused method of attack.
Unfortunately, all songs on this EP follow the same structure, with only a few arpeggios and a bizarre solo sequence on the final track introducing variation. The consequence of this repetitive method of composition is that each track does tend to meld together, and after listening to this EP, one will be hard pressed to remember anything distinguishing them. Repetition in itself is not a negative (see Ildjarn), but the difference here is that there is little in terms of atmosphere and thus the attention shifts to the riffs – which do little to retain.
Nevertheless, the band avoids many of the pitfalls prevalent among its generation: there is no "glitter", nor strange concessions to other genres included to entice more fans – just honest metal which has the potential to both drawn in new fans and appeal to long-time listeners of the genre. As this was merely a short demo, the band has potential to build from in future releases.
Tags: Black Metal, yass-waddah