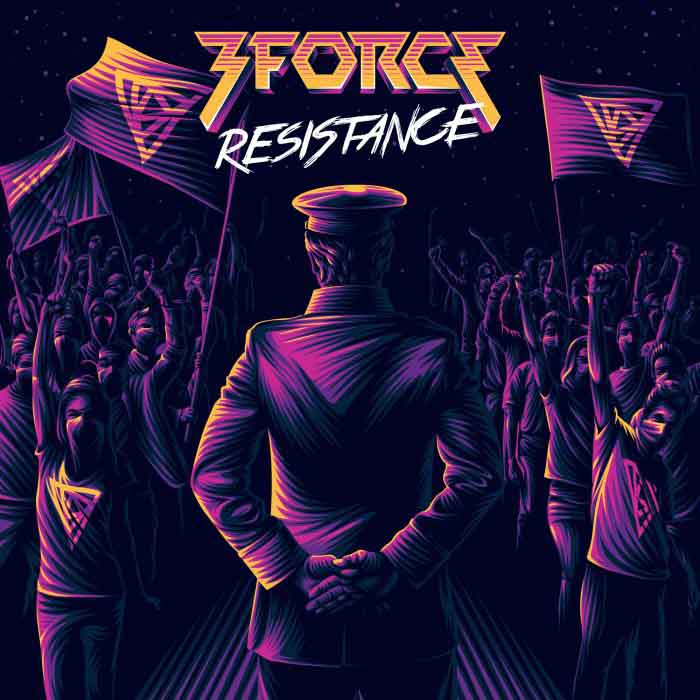 Following familiar queues in electronic music, 3Force manages to not only achieve the climaxes through well-crafted expectation and adequate use of impact, but also sound articulate: someone using an established, rich language to its full potential as a means of communication. Songs here have a tendency to be concise, but out of an aristocratic restraint that stays aloof from crassness, speaks what needs to be said efficiently and without undue bombast. Given the evidence, some have credited the elegant eloquence through melody and paucity we hear in Resistance to the influence of veterans and pioneers Kraftwerk. Said influence is heard in the thematic melodies, and in the sense of percussion. Now, the music here is much more decorated, and themes are veiled or quickly made to variate in some way or other, so that while Kraftwerk demands a conscious effort to remain anchored, 3Force expands grandiously so that the listener is better entertained. This does not detract from the music, and rather enhances it into shapes and effects arising from its central spine, just as embellishments in Mozart's music only made it greater, because they were not haphazard nor were they incongruous.
The power Resistance has to uplift, inspire and otherwise reinvigorate the souls of those who would rise to the challenge, meet their moment, seize the day, or whatever other expression of conscious action under willpower one chooses to verbalize. Even if we were not aware of the titles given to the album and the songs, the finished pieces here do so strongly convey these sentiments by way of pressing those buttons that activate similar chemical reactions in human beings. This, in itself, the knowledge of the way in which combinations of patterns of sounds (of which the concept and notation are but abstractions), is what music really is. The birth of electronic music, even when it was not known by this name, what was understood was that the electronic means would be a way for composers to free themselves from conventional instrumentations for the sake of reaching closer to the sound in itself, something that may still be possible for metal to do [2] if it can go beyond itself without losing focus or falling into the whirlwind of a different and more limited set of tropes [3].
We learn again in 3Force Resistance, that despite trends and the time-positioning of particular stylings and the technology of the instruments, great music of any kind is timeless and achieves permanence by its ability to transmit in well-defined patterns, and not merely on presumptions of spirituality, religiosity or ideology. Additionally, that human beings of all stripes and colors, of different abilities and possessed of distinct preferences in life, tending towards all kinds of beliefs religious and plolitical, are capable of exactly the same inner inspiration and inner as well as outer greatness. Finally, and most importantly, that honor lies in the individual and belongs to the realm of his actions, and that their valuation should be made in terms of that, and not in the off-hand manner hitherto exercised by a brute, unconscious and ignorant 'humanity'.
Notes
[1] Listen to the work of Kraftwerk, but especially of Klaus Schulze. Tangerine Dream should be mentioned, as well.
[2] See our review of Siete Lagunas I & II: https://www.deathmetal.org/review/siete-lagunas-i-ii-2018/
[3] Refer to the article A case study in wallpaper black metal and a discussion of its apologetics: https://www.deathmetal.org/article/wallpaper-black-metal-apologetics/
Tags: 2017, 3force, electronic, fascism, resistance