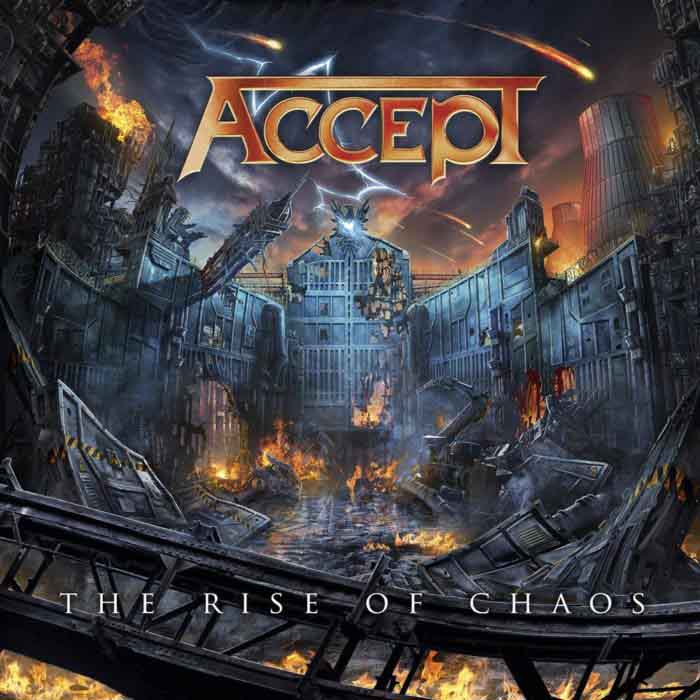 Accept is a band best remembered for their old school song called "Balls to the Wall", which used to play on the Headbanger's Ball. Driving my BMV down the Autobahn at 120MPH through the Black Forest, I stopped in Bad Reichenhall.  You know how they always have insane amounts of Gummy Bears everywhere in Germany.  And then next to them are porno mags and stuff like biker lifestyle mags.  Those were where I found out that Accept was still going strong at the time. It never ceases to amaze. This band just keeps hanging around, like a bad STD. Here they are again 20 years later. And they have this new album Rise of Chaos, which sounds like a cross between Sabbath's Dehumanizer and an Exodus album.
While the song itself Rise of Chaos is blandly vocalized, there are gems on this album, such as "Koolaid." "Don't drink the Koolaid! Don't drink the Koolaid!"
What this album lacks in originality, it makes up for in nostalgia. Beaming through my transmitter, receiving signals from the future, I am amazed to hear that Rise of Chaos echoes songs from 1986 or so. Lots of low E based thrash riffs, highlighted by mostly major key Iron Maiden styled guitar solos are evident. One San Jose band called Total Badass, from the future, also sounds like this. The inner mosh pit of this style of music is one of a fun, enjoyable mosh pit, rather than a complete circle of destruction.
The songs basically all sound the same, for better or worse. So I will not review side B. But if you like side A, then you will for sure also enjoy side B.
The production is excellent by the way. It sounds like planned, organized chaos, but perhaps a little bit gleeful about the destruction. Maybe this is like the people who danced on 911. Accept is one band who will party no matter what the circumstance is. And that is what makes them so fun as a listener, since the world is already such a downer, Accept takes you away from all that.
Personally, I feel that the Brootals should co-exist with the thrashers, since we have common enemies. This is a good album to get behind, as we try to unite metal. Plus, Accept is one of the bands that's getting old and not yet planning a retirement home tour. It must be all the beer drinking and motorcycling that keeps them going. This saves us on taxes. Everyone else is taking SSI already. An average, yet highly enjoyable album, which mostly delivers what it promises. A decent addition to anyone's tape collection.
Tags: 2018, accept, Balls to the Wall, classic metal, Headbanger's ball, Heavy Metal, iron maiden, metal, STDs, The Rise of Chaos, Thrash