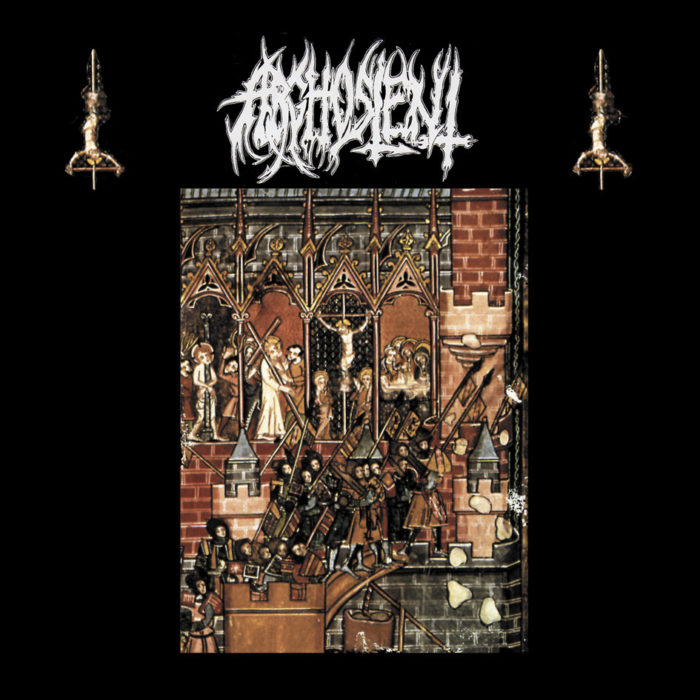 Arghoslent hailing from Virginia, USA are another one of those so-called "melodic death metal" bands with hardly anything in common with death metal at all. Rather Arghoslent play plain old heavy metal. Unlike their lame contemporaries from Gothenburg, Sweden, Arghoslent were once an effective heavy metal band who initially continued the work of their idols that past European power metal bands had merely emasculated. Arghoslent themselves would eventually stumble into these same stadium rock sins but not on Arsenal of Glory.
Arghoslent's lyrics mostly emulated the epic historical themes of Iron Maiden. When not, the band infamously aimed for the provocative. Satanism and gore were not provocative enough to politically correct socialists in all but name who control the mainstream media spreading liberation narratives. Racism and antisemitism were and still are ever more so presently. All of Arghoslent's recordings were "recorded south of the Mason-Dixon Line", which gives them a certain blockhead appeal that endears ill-suited, political rather than artistic, enthusiasm towards the band's later, inferior works.
This cassette (later reissued on CD by Drakkar Productions) improved upon promising earlier demos to present listeners with highly-effective and progressive heavy metal at ripping speed. Riffing was inspired by past heavy and speed metal greats like the aforementioned Iron Maiden, Judas Priest, Metallica, Megadeth, Destruction, and especially Mercyful Fate. Song structures were in the riff maze format pioneered by Mercyful Fate but with the pace was sped up to speed metal standards. Arghoslent kept a deliberate heavy metal riff arrangement rather than the chromaticism with shifting forward tonal centers of early Slayer as pointed out in our earlier review of Galloping Through the Battle Ruins.
The moods of the compositions were fittingly not occult like early Mercyful Fate but rather epic in the Manowar and Maiden style. Unleashed accomplished something similar a few years prior on Where No Life Dwells but from a more modern, death metal and hardcore approach. On Arsenal of Glory, whatever major scale modulations Arghoslent committed that would be way too cheesy in the hands of wimpier bands mostly were quickly paved over in epic and aggressive progressive heavy metal compositions; a Don't Break the Oath if Mercyful Fate had heard death metal. Relative brevity and profundity makes Arsenal of Glory a very re-playable record to this day and still Arghoslent's best.
Tags: 1996, Arghoslent, arsenal of glory, article, demo, drakkar productions, EP, Heavy Metal, review, Speed Metal, virginia