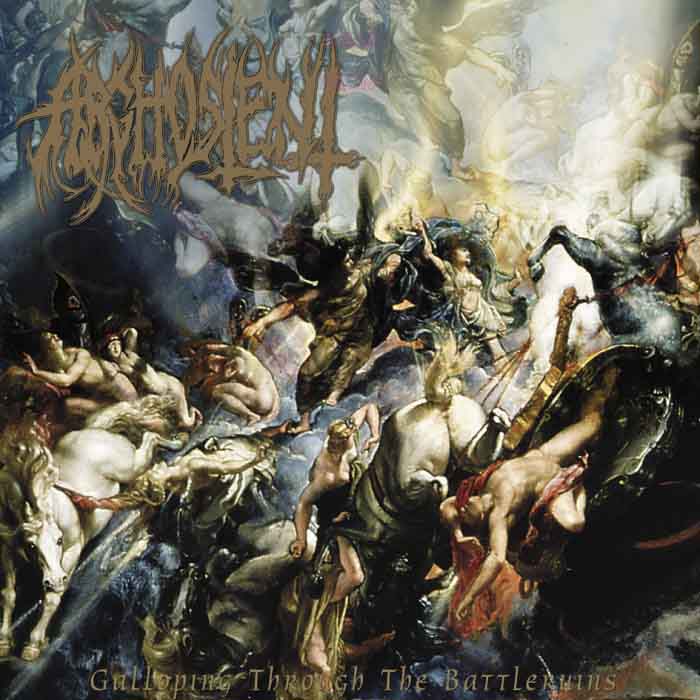 Article by David Rosales
Arghoslent are frequently and incorrectly tagged as a death metal band while they are actually a speed metal seasoned with a traditional heavy metal approach to the use of melody and soloing that goes can be described as lyrical or 'singable'. The barking vocals that are featured here are the only thing that is borrowed directly from death metal and their usage is still more heavy metal in nature, given that the relationship of vocals to the underlying music is more akin to the riff-riding of Ozzy than the punching counterpoint of Suffocation or Gorguts.

There is more of Manilla Road's Crystal Logic than Slayer's Hell Awaits here; where the latter has a clear thematic development going on in riffs and the former is more conservatively classical in its harmony. Also, the long-term structuring is the subtle, progressive path of 'epic' heavy metal, so termed as to not mix it up with the carnival music of more 'open' bands who would appropriate the official name of seventies classically and jazz-inspired experimental rock music.
In Galloping Through the Battle Ruins, Arghoslent seem a little careless regarding the character or emotional quality (for lack of a better term) of the implied harmony, often incurring in silly or happy-sounding passages which would sound completely out of place in most death or black metal. These are, however, a common staple of technically-oriented speed metal as it exploits scale-wise expansion of patterns, often resorting to sequences.
At the Gates circumvented this unavoidable side effect of using sequences in their earliest work by following through with complete transpositions of a same mode to new tonal centers instead of adhering to the sprawling stepping-stones of fully-defined classical harmony. Arghoslent, on the other hand, and like any traditional heavy or speed metal band, remains rooted in this latter orthodoxy, accepting and making use of any bright arpeggios with far more openness than more-evolved underground metal would allow.
Arghoslent Galloping Through the Battle Ruins achieves an effective balance of centrifugal and centripetal forces by bringing in some of the conservative (by which "pop-structured" is not meant) spirit of proper death metal to the epic intent of an Iron Maiden in their best hour with 'The Rhyme of the Ancient Mariner' or 'Phantom of the Opera'. Furthermore, this album is dirty and thrashy, grounding it and preventing the music from becoming overly fond of itself or too self-conscious. The latter is an ever-present and far more subtle trap that may even be perceived in Cóndor's sophomore effort.
An inevitable comparison may be drawn to The Chasm, who are hailed for the density and apparently more complex structures. But where The Chasm gets lost in its own dreams of madness as songs are taken from promising illusion and wonder into confusion and pointlessness, Arghoslent remains stalwart; their resolute convictions clearly stamped on well-balanced music that brings a sense of adventure to visions of crude reality, and the fantasy of time travel with the brutal honesty of an unrepressed child.
Tags: 1998, Arghoslent, galloping through the battle ruins, Heavy Metal, Melodic Death Metal, Speed Metal, traditional heavy metal