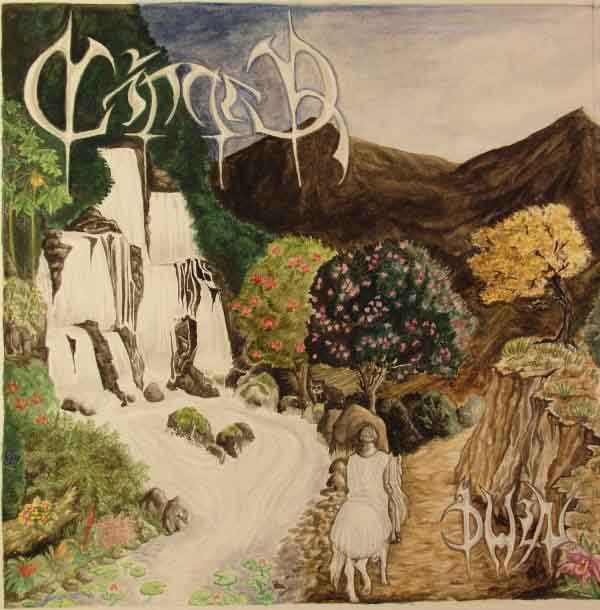 Colombian band Cóndor presents an album which European Romantics might have undertaken had their tastes run to heavy metal, with an explicit influence from Bedřich Smetana and a more subtle yet pervasive inspiration from Jean Sibelius, manifested in a style of underground metal that sounds like Atheist covering Graveland. An organic, fluent and natural flow embodied in sweeping melodies and choking riffs that overcome and seem to grow out of each other independent of the composer, as if taking a hint from a young Friedrich Nietzsche, gives this music a childish and innocent Dionysian center driven by instinct. The result is an album that must be listened to as a whole experience to find the moments which strike us as stereotypically metal sharing space with entirely contrasting ideas which set up the emotional background to those moments of violent intensity.
Unlike modern-day posturing in black metal, Duin looks toward the older tradition of abstract Romantic 19th century Nationalism as expressed in classical music and folk art. Both betray their presence in the use of typically long, modal, easy-to-get melodies of the folk kind. Sibelius lives in that tendency to drift into very paused passages and quiet dynamics seemlessly which was so characteristic of Nadia. In this sense, we could say that while Nadia was a Sibelian album, Duin is more of a Smetana-Fudali-ean album. It exists in a type of magical music like that conceived in Marsilio Ficino's mind, a form of sonic art which follow celestial designs with metaphor of the spirit such that its effect over us is as sure and profound as that of the Sun and the Moon on the creatures of a forest. These strong 'authentic' folk inclinations serve as converging points of most visible influences. There is both a sylvan spirit underlying the music and a warm home-welcoming one as opposed to a warlike and epic one. These last two characters are instead represented in the more energetic passages which do not override the greater scheme of things and instead contribute to a desire for adventure that does not quite reach epic proportions. This follows the general theme of this work as, in contrast to the Apollonian rigid order of Beethoven or Bach, a wandering organic Dionysian spirit which aims to be appreciate from the atmosphere it saturates with meaning instead of a linear narrative progressing toward the conclusion of a musical argument. Like the naturalistic music of Burzum, Duin follows the thought process that repetition of a riff does not end when the composer or audience wants it to, but when the nature of that riff in the context of the song indicates a need for change. A kind of musical "sixth sense" pervades this album.
The first track, "Río Frío" starts off by quoting the last track from the debut album, El Roble Será Mi Trono Eterno for a few measures only to quiet down and performing an adaptation of Smetana's Vltava for overidden and distorted guitars and bass. The second track, "El Lamento de Penélope" will probably give the strongest impression of this relation to Absurd in its urgent and minimalistic rhythmic riffing. The way the following melodies are carried in triple time reinforce this view until Vltava's theme is used in the climax section of the song. The following song, "La Gran Laguna," is a roller coaster ride which takes us again through vistas of minimalist folk metal with quasi-marching beats and prominent melancolic melodies alternationg with ambient-like sections with a picked clean guitar outlining chords over the roar of its distorted partner. An instance of this supports the song's solo section, which show off how Cóndor has stepped up even in its melodic treatment of solos which when compared to Nadia display a more mature independence from guitar-scale blocks.
"Coeur-de-lion" starts the visible slowing down and gradual elongating of expression that the album manifests increasingly a step at a time. The riffs are given a different tone by both the change in pacing, along with the playful exchange and duple and triple times which in different inceptions point the music in different directions. With a 2/4 reciting inisting, childish urgency, a 4/4 allowing for settling feeling, a 3/4 for a more bouncy feeling which slowed down and seen differently can be a martial and/or swinging 6/4 or 6/8, depending on the note value. "Condordäle" takes us one step further in what is almost a dirge in the beginning but which allows smooth and sensuous transition between riffs forming layers of an idea, with clear vocals reminiscent of a classical chorus.
"Helle Gemundon in Mod-Sefan" begins with a clear, long and emotional melody line gradually introduced and repeated, but is always interrupted by chords which sound dissonant in the context so as to disrupt the final resolution that we might expect in the line. Each time the line is allowed more time and to soar higher and higher. In the last of these repetitions the song then turns to the riff styling of the aforementioned dissonance-inducing chords, and riff after riff is wrought from this idea until its natural duration is expired. A break is brought which leads into a more conventional metal section comes in which a series of solos in the same vein are played. Mid-paced, emotional, almost aloof and relaxed playing which would not seem out of place in urban underground styles of rock characteristic of Latin America.
"Adagio" is an interlude for bass and clean electric guitars which serves as a beautiful gasping point before the last track, named after the album, that serves as a closing for the album. After the slowing down and exploration of different influences towards the middle of the album, a bit of everything is brought back in this song with a slow beginning which blooms almost inperceptibly harsh, hammering riffs, slow, folk-song melodies in lullabying triple time, which again alternate into a bridge of descending chromatic notes in the classical style leading directly into melodic indulgence in solo and riff proper of that folk metal which displays the transparency of rock and the honeset simplicity of the folk melody.
This is an album in which each song feels "better" than the one before. But when listened to many times one discovers this is not really the case. It is just that the progression between songs and within songs makes it feel as if each new event in the music is reaching towards a new goal, new vistas, but always through the eye of the Cóndor. Just like the compositions of the young Sebastian Bach shortly before and after his visiting Dietrich Buxtehude in Lübeck betrayed the unmistakable mark of the old master in form and method but never bowed down to him so that the pieces were, nevertheless, stamped with the young genius' name, so does the band manages yet again to sound like itself independently or in spite of its distinguishable inspirations. Sounding like a more seasoned band than on Nadia, the telling silhouette of the Cóndor comes out of the foggy shadows and into a golden Autumn light.
Tags: 2015, condor, death metal, duin, review