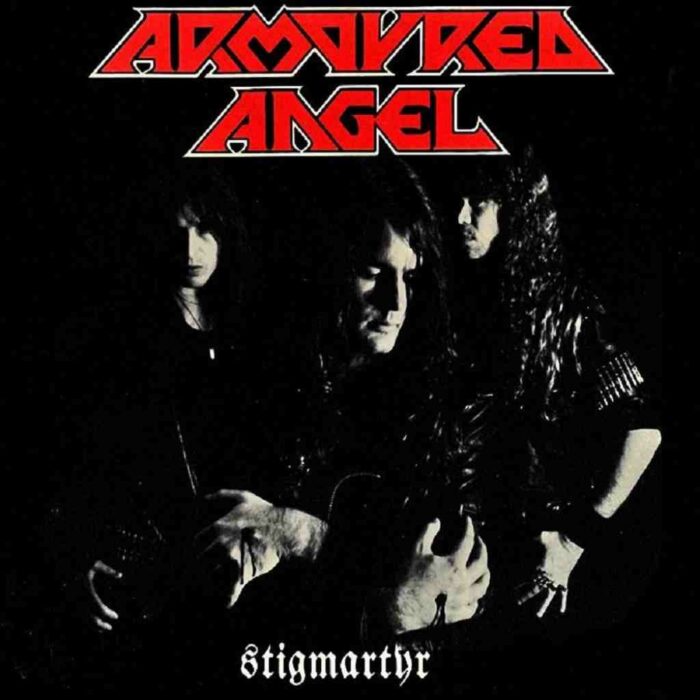 Legion are those who have attempted a synergic hybrid of speed metal into underground metal. Although the number of succesful outcomes remains modest, a handful notable works such as Immortal At the Heart of Winter and Merciless Unbound make the idea somewhat plausible.
One lesser celebrated entity, atleast outside of underground circles, in this particular field is Armoured Angel of Canberra, Australia. Founded in 1982 but acquiring its name two years later, Armoured Angel started out playing raunchy heavy metal, but had by the mid-1980s morphed into one of Australia's earliest and most vicious speed metal acts while working within the older heavy metal riff framework. Further developments in underground metal during the early-1990s encouraged the band to adopt stylistic markers most commonly associated with the burgeoning death metal scene, as heard on the object here under scrutiny: 1992's four-track EP Stigmartyr.
Like latter-day Desecresy material, Stigmartyr shares aesthetic traits with then-contemporary works by bands like Bolt Thrower and Asphyx. However, Armoured Angel takes a different route and channels these alleged influences into a framework more in keeping with their heavy metal roots. The compositions are built on a rudiment of streamlined but rhythmically and melodically varied and propulsive palm-muted down-stroke riffs which alternatively complement each other and create tension, achieving a sensation of forward movement through strife. This aspect is further augmented and solidified by the rhythm section, while the hoarsely whispered vocals work in a declarative manner roughly similar to those of Bolt Thrower or late 1980s dancefloor industrial.
Where later releases by the band would lean increasingly on melodicism as prime mover, Stigmartyr employs melody in a sparse, effective manner, primarily through carefully placed lead guitar climaxes in the style of classic heavy metal and as a way to grant distinction and memorability to each of the four tracks, something which is further strengthened through subtle variations in tempo and rhythmic patterning. It stands above other attempts in this style and retains its own personality despite containing multitudes.
Tags: amoured angel, Australia, Speed Metal