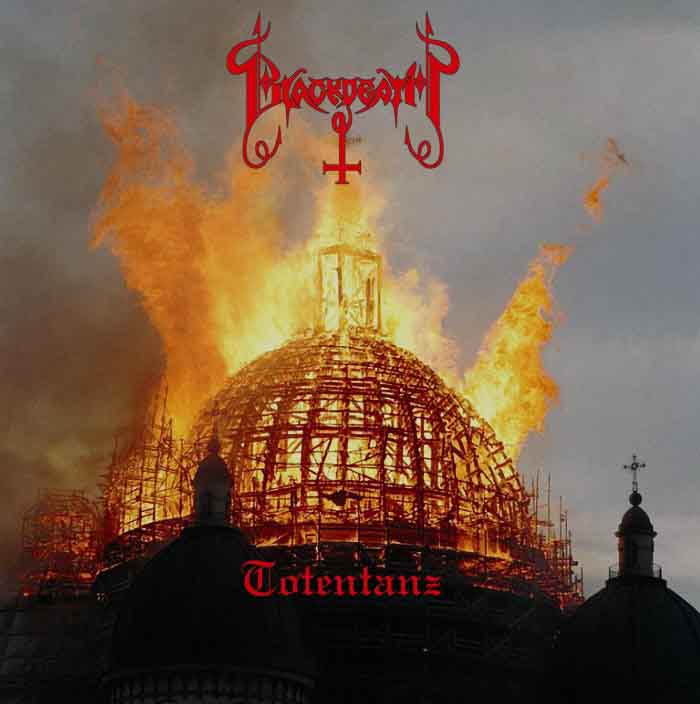 Blackdeath is a Russian black metal band that just so happens to perform their lyrics in German. Funny how that works out. I'm not sure what the motivation is, but it's a mildly interesting bit of trivia that you might get a kick out of. The actual album (which is intended to release on January 1st, 2016, and was provided via promos) was initially released in two parts in 2004, as parts of splits with Mortifera and Leviathan produced in exceedingly small qualities, so while the material is far from new, this may be your first chance to hear what comes off as a competent, but unremarkable and therefore disposable piece of old school black metal. Definitely not "best of 2016" material.
Now, the promo message we were sent claims that Totentanz is "…nothing like you have heard before", but in my personal experience, there's not much here that's particularly novel. Blackdeath's PR agency was probably listening primarily to the guitar, which showcase a nice mixture of standard melodic black metal phrases with more dissonant, atonal phrases. By not confining themselves to tonal centers, the band has opened up some realms of musical technique that could come in handy. That's about all I can say in favor of the instrumental end of this album – nothing here is "wrong" or out of place (even the drum machine), but it's otherwise very standard for its subgenre.
I suppose the specific problem with Totentanz is that it does little to coordinate its individual elements into a coherent whole. Blackdeath seemingly values the "kvlt" side of black metal, and thusly this album is blessed with a stereotypical low fidelity mix. The most prominent issue here is that the percussion is nearly inaudible; this appears to be a constant problem throughout the band's discography. It's not really a problem for a more ambient black metal act like Darkthrone or Sorcier des Glaces, but Blackdeath seemingly aspires towards the more violent side of the genre, at least if the rest of their musical elements aren't misleading me. Totentanz also has the sort of arbitrary songwriting that so many other metal bands fall into. In this case, I find it unusually hard to isolate specific elements for criticism; however, the aesthetic/songwriting mismatch seems to be most responsible for this recording going in one ear and out the other without getting much in the way of proper mental attention.
I guess it's a dubious honor that the first upcoming release of 2016 I've reviewed avoids the Sadistic Metal Reviews pile, but honestly, the best thing I can say about Totentanz is that it's surrounded by mildly interesting circumstances.
Tags: 2016, Black Metal, blackdeath, Russian black metal, totentanz