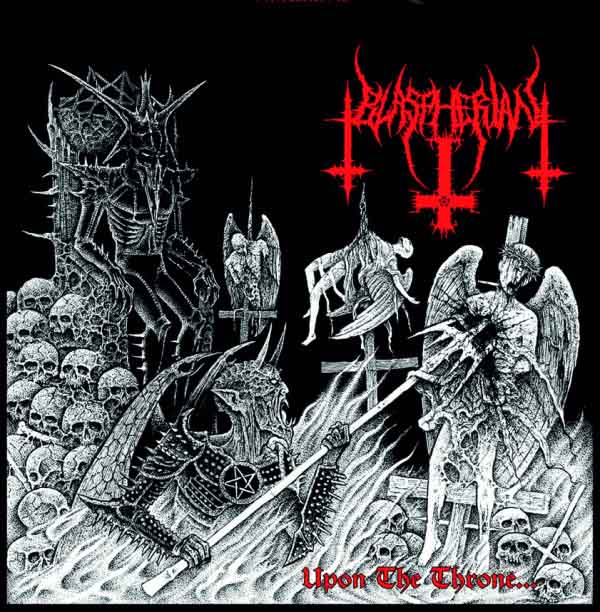 Texas old school death metal (which is to say, "death metal") band Blaspherian return after the triumphant Allegiance to the Will of Damnation with a two-song EP showcasing a newer style which is both more brooding and more raw, chaotic and abrupt.

These two songs show the Celtic Frost influence in the way riffs are arranged to contrast one another, as if by competing groups of demons howling blasphemies across a chasm in Hell, each building the intensity of its own blasphemy based on the statements of the others. "Awakened Into Impious Absolvement" starts with a relatively simple charging riff, than breaks into another one and picks up the narrative there by adding textural variation, then creates an interplay between competing riffs that allows a return to the original pattern with greater strength. "Phoenix Of Uncreation" on the other hand shows a fully intense influence of early Incantation (most intensely "Profanation") by building from a fast riff to an extensive doomy passage which is developed into a series of mid-paced riffs which alternate between the textures already introduced, as if preparing us through a long journey for something revelatory found at the end, which comes through an atmospheric detour into a riff played at the pace of doom metal with the fast death metal strum. That creates an otherworldly atmosphere which is resolved in return to earlier themes which like a snowball build intensity with each break and restatement. The song ends in blazing fury as its contrary impulses collide, culminating in faster and streamlined versions of earlier patterns exploding into a final theme.
Upon the Throne​.​.​.​of Eternal Blasphemous Death shows Blaspherian exploring its roots in more idiosyncratic and chaotic death metal with the application of songwriting principles learned from the last full-length. This creates a more moody sound and one which requires more from the listener, but like the more polished works reflected on the unpolished days of their demos, resurrects the sense of a detached and irrational world manifested through evil intent.
Tracklist:
Awakened Into Impious Absolvement (5:58)
Phoenix Of Uncreation (5:30)
Tags: blaspherian, death metal