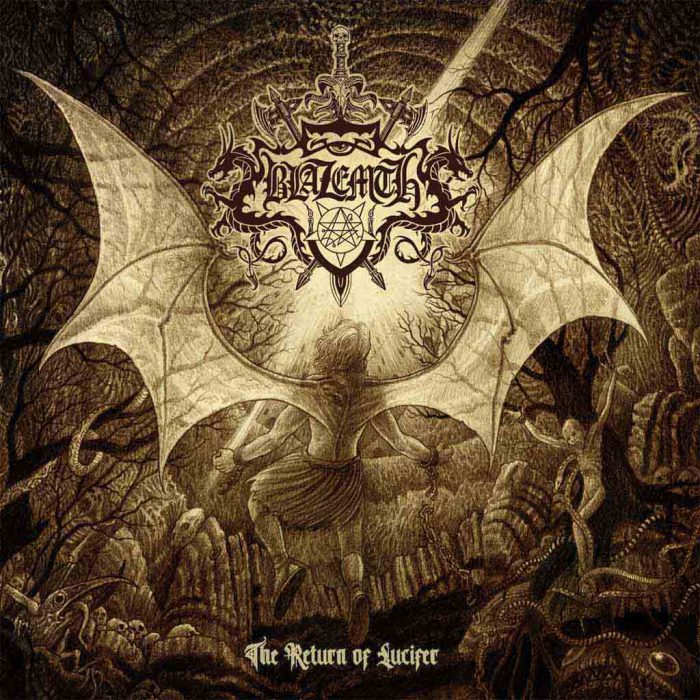 Black metal travelled many roads when attempting to fully understand its identity; many of these paths were imaginative at first, but ultimately served to further divide the genre into identifiable individual brands instead of renewing discovery of what it had at its center.
One of these myriad styles was "melodic black metal", named for its tendency to quote the melodic flourishes of classic heavy metal. Arguably inspired by Mayhem's debut, this sub-sub-genre at its best was able to create an effect of introspection arising out of darkness, while the worst examples adopted the rhythmic emphasis — handed down from rock — of heavy metal along with relatively predictable pentatonic melodies.
Blazemth has historically waffled between these two extremes, relying on chromatic ascending and descending verses followed by a melodic restatement of the primary theme clearly inherited from Dissection. Like Dissection, it often returns to simple chromatic runs in order to ride a catchy rhythm for all its worth.
The band demonstrates a great faculty for building those themes into fragments of a powerful statement which, like suddenly being suspended in the air above a battlefield, open perspective on the surrounding chaos. These heavy moments make this a passable entry, but leave open the question of what they are doing to advance the genre.
The Return of Lucifer shows us a competent, and even stirring at times, release but the elephant in the room is that more development is needed to make this album more than a well-crafted restatement of prior themes. While that can be said for most metal now, those who go further will be remembered for aeons.
Lineup
Ferran Volkhaar – guitars/vocals
Shunh – guitar
Franklin – bass
Riky Mena – drums
Jorge Dragon – didgeridoo
Tracklist
1. Magik Invocation
2. The Return of Lucifer
3. Inferno
4. War
5. Hecate
6. Visions of My Dark Soul
7. In Fight I Die
8. A Passage of Unlight
9. The Grummer
10. Outro
Tags: Black Metal, blazemth