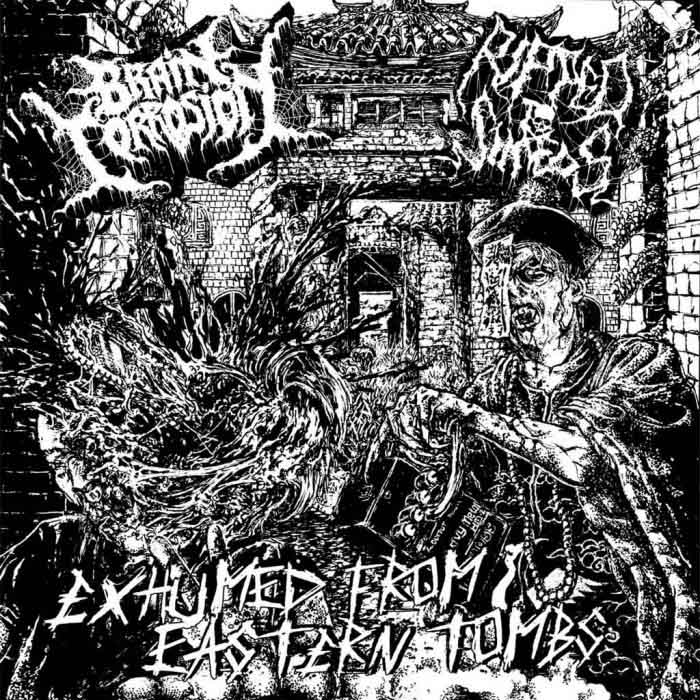 This split album showcases high intensity grindcore and old school death metal with a speed metal pace, with Brain Corrosion demonstrating an inventive approach toward varying conventional grindcore patterns and working in touches of melody, while Ripped to Shreds sounds like Nunslaughter executed by Slaughter Lord, using a high-energy approach to a crossover between traditional heavy metal and fast death metal.
Although three of the four tracks on the Ripped to Shreds side are covers, the band demonstrates its basic approach consistently of using grindcore or Slayer-influenced speed metal pacing to keep the energy going behind old school death metal riffs, but remembers to break pattern and vary tempi enough to avoid becoming a "faucet turned on at 3:00 AM" drone band.
Perhaps the most promising material here comes from Brain Corrosion who show the postmodern approach to grindcore — frenetic riff changes at high speed — brought more into line with songwriting based around some unifying idea, but Ripped to Shreds are no slouches either with this promisy, brainy but visceral death metal.
Tags: brain corrosion, Grindcore, Old School Death Metal, ripped to shreds