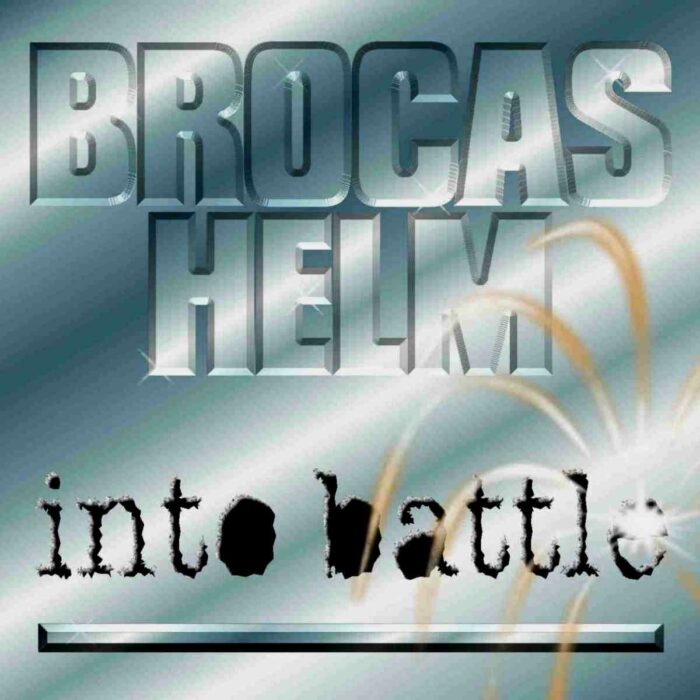 Spurred on by the epiphanic New Wave of British Heavy Metal, heavy music exploded in the United States during the early 1980s with literally thousands of bands spawning across the country. Taking obvious influence from seminal acts such as Iron Maiden, Judas Priest, Motörhead, and Dio-era Black Sabbath, US heavy metal managed to acquire a character and life of its own, manifesting in some cases in a more muscular sound while others pursued more progressive or melodic leanings.
Of special note however were a certain kind of weirdo acts who forged their own idiosyncratic modes of expression and remain largely without either precedents or successors. Emerging from San Francisco's underground music scene in the early 1980s, Brocas Helm started out as a quartet but soon settled into the established three-piece format as heard on their debut album Into Battle. A somewhat unusual constellation for a traditional eighties heavy metal band, the band somehow worked in a subtle influence of Motörhead and 1970s heavy/prog rock power trios in addition to the expected NWOBHM-isms.
Unlike for example Manowar, Cirith Ungol, Manilla Road, or Warlord, which are some of the more likely choices of comparison given the fantastical themes and battle-epic streak permeating the music, Brocas Helm sounds less stricken by typical 1980s pomposity and more at home in the then still recent past of the 1970s. More specifically, they come across as a strange melange of fantasy-themed yet gritty biker heavy metal, progressive rock-influenced song structuring and quasi-medievalist folk melodies, topped off with the attitude and addictive speed of punk rock, with a loose, slightly jazzy approach to instrumental handling.
As might be gathered from the above description, the resulting music carries a certain mercurial character that does not always translate into solid gold ("Here to Rock" being the most obvious misstep, although not bad for a simple rocker), but when the seemingly disparate parts align properly (as in "Dark Rider", "Night Siege" or "Into Battle"), the results are pure heavy metal magic.
Tags: brocas helm, Heavy Metal