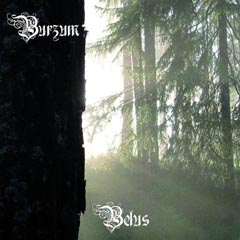 ANUS came out a couple weeks ago with a giant defecation on the new Burzum. People immediately complained that we hadn't heard it, were being judgmental, and all sorts of silly stuff. What they didn't realize is that you can hear a lot of things without officially owning them or getting them from the label, but you're not going to do anything to hurt your sources. All of that changed last night, of course, with the official leak of the Belus master and 2LP version.
You want the tl;dr on the new Burzum? "Sounds good, soulless and disorganized." This album has no direction but Varg is so adept at making simple riffs pretty that you want to drink it down. Cold, sweet, vast in flavor like a Snapple — but after listening to it a few times, you end up thinking: why am I doing this? This is no different than watching TV, going to a megachurch to hear about my immortal soul, or buying wallpaper. It's pretty but has no direction so it ends up being like all other drone albums: a basic theme that picks up detail as repetition increases, then trails off into nowhere.
If you want music to replicate the experience of watching cheerleaders attempt to act out Macbeth, this might be for you, but not likely. Riffs are based on simple harmony and well-composed, but go nowhere, incorporating at random influences from Russian black metal, Ukranian black metal, German speed metal, Terrorizer and random death metal. A good deal of this shows the tripartite influence of Swedish melodic death metal, Slavic drone metal, and the American style of black metal flavored indie rock. The first track "borrows" the melody from the title track of one of the keyboard albums. Two of these tracks are obvious Uruk Hai do-overs.
The final track sounds like Sunn o))) doing their version of Burzum. Makes me wonder if the label and his Russian handlers didn't sit him down with recent black metal blockbusters and try to get the trained monkey to make his own version. The musical ability here is precocious as always, but the raw material fed into the machine is gunk, so what's output is really well-adorned gunk.
When you hear it, notice how simple the riffs are relative to the fills, trills and decorations that space them. It's like dressing up a turd until it looks like a Faberge egg, from a distance. But when you get close, or listen to it a dozen times, you'll see the difference.
Tags: belus, Black Metal, burzum, review