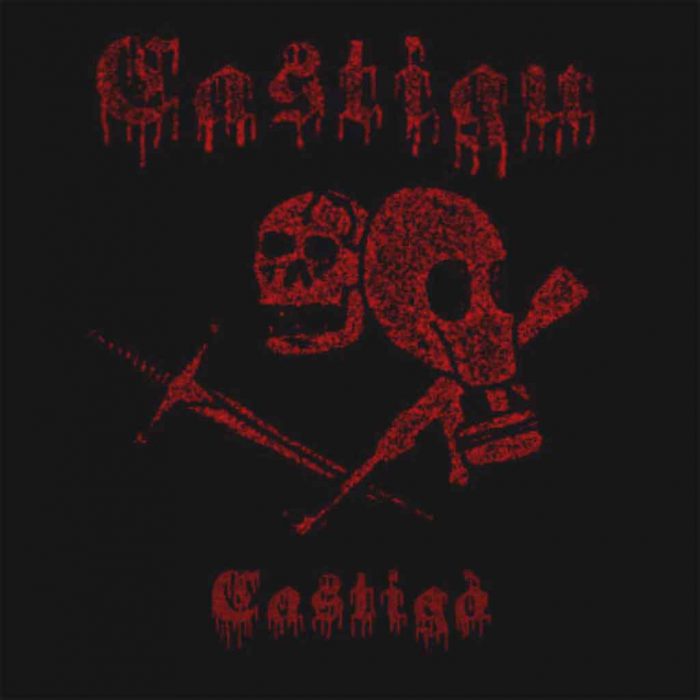 History will not remember war metal well, since it took aspects of black metal and intensified them but in doing so, missed the point of the atmosphere and sense of a world changing in parallax, where it drifts backward as time thrusts us forward, that black metal captured.
Castigu addresses this situation by melding primitive first-wave black metal back into its Beherit and Impaled Nazarene inspired war metal, adding a sense of melody and pervasive atmosphere of primitive, amoral darkness. This both builds on the past and strips out much of the intervening trope and compensatory adornments.
Instead a primal high-intensity music emerges that crests its waves of surging rhythm riffing with more spacious riffs, bringing out a sense of atmosphere and making the more pummeling riffs more intense. This creates a sense of looking within a cloud to see the clash of lighting and wind.
Despite being short in duration, these tracks let their riffs breathe, and alternate between doom metal rhythms and mid-paced black metal, interjecting racing power chord rushes for contrast. In this, Castigu forges new patterns from the elemental methods of black metal.
Horribly produced, often sounding a demonic orgy in a truck stop bathroom with random evil guitar slashing away in the background, Castigà injects enough interesting guitar work to save war metal from itself and bring it back into the black metal fold, then let its own voice emerge from the chaos.
Tags: Black Metal, castiga