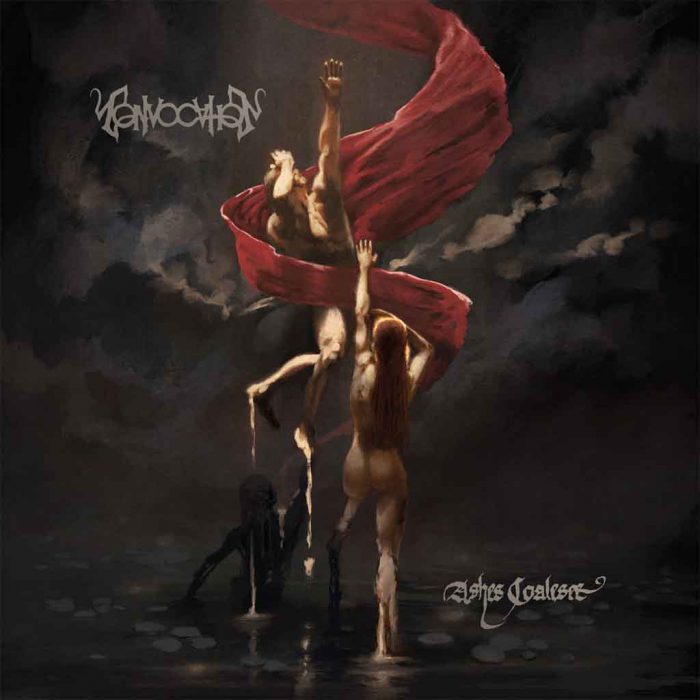 Rare among doom metal bands, Convocation knows how to create a sustained mood with slowly crashing chords under rising gentle lead-picked melodies, building a contrast within each riff to which the gritty hoarse vocals provide a rhythmic anchor, drums drifting tangentially to both keep time and suspend it.
Ashes Coalesce shows a band that has decided firmly on a style and wishes to explore within it, incorporating a small amount of the heavy metal tinged Swedish style of melodic death metal, albeit at a slower pace, into Skepticism/Thergothon/Winter styled glacial pace doom metal. Songs build to a point of tension and hold it for as long as possible, then settle into a death metal inspired exchange of riff textures to develop the incipient melody to a conclusion.
At times, this band seems stuck in the early days of heavy metal, mixing hard rock inspired riffs with chromatic rhythm riffing, and this injects chaos which causes the mood to falter, but for most of the album the band focuses on riffcraft as a means of defining and exploring theme. Song structures follow this dialogue and unfold like journeys in unfamiliar forest.
Within these lengthy songs, Convocation captures the mood of good doom metal, which is a grim morbid realism paired with a sense of grandeur and beauty in life found in unexpected places, lending an atmosphere of the naturalistic surreal to these dark dirges of forgotten hope.
Tags: convocation, Doom Metal