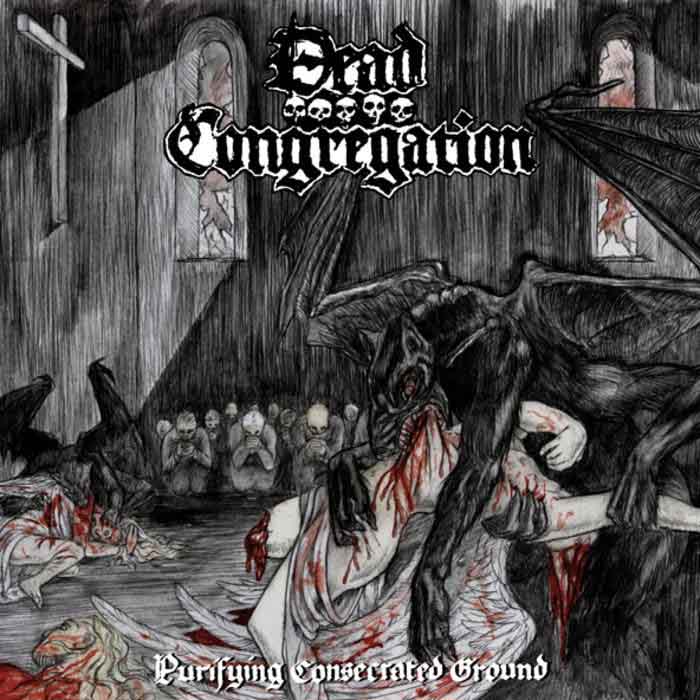 Modern death metal is a cesspool. Riffless atonal texture and rehashed generic riffs combine into a poppy carnival of random boring bullshit to feed the typical underground record label ponzi scheme. Rare was the new release anything worth the attention of any older fans even over a decade ago in 2005. Coming years after their heroes in Morbid Angel, Incantation, and Immolation stopped releasing worthy or even interesting material (but before they went "radikult"), Dead Congregation's debut EP, Purifying Consecrated Ground, showed a powerful potential that awed many into submission.
Purifying Consecrated Ground surged forth with an urgency that hadn't been heard in years on the introductory track "Vomitchrist". Furious counter-pointed riffing in the style of early Immolation meeting the tremolo-picked leads of black metal brought listeners to their knees before any could stop to think about Dead Congregation's songwriting. The percussive pounding leading the death march seems to have bashed in most hesher's brains. Repeated listening reveals "Vomitchrist" be merely a well-done, verse-chorus-verse, riff salad song. Being less than three minutes long the song doesn't overstay its welcome despite the repetitiveness of this standard speed metal song format but lack of melodic structure betrays the inherent flaws of the band.
Dead Congregation's riffing isn't weak contrary to the opinion of many commentators. The verse rhythm guitar riffs have extended phrasing with numerous variations both clever and boneheaded despite being jammed together into tossed riff salad songs most of the time. Many resemble first wave black metal riffs in death metal songs with drastic tempo shifts, i.e. Incantation. However Dead Congregation's drummer does not drum in service to riffs nor shifts tempo in accordance with riffs varying in long-form melodies as seen in Norwegian black metal (without major tempo changes), At the Gates, Morbid Angel, and Jim Roe's own work in Incantation. Rather Dead Congregation's drummer sounds like was picked at random from a Unique Leader Records police lineup from the late nineties. He frequently threatens to go off the rails into his own technical brutal death metal fantasy world where wife beaters and camouflage cargo replaced black t-shirts, jeans, and leather jackets as Hessian uniforms. Purifying Consecrated Ground makes listeners long for the cyclical narrative songwriting of Deeds of Flesh.
The cargo cult imitation of Incantation's songwriting prevented Dead Congregation from ascending to the Olympian peaks of their forefathers on Purifying Consecrated Ground . The band needlessly brought their death/speed metal compositions to a halt and perished on the mountain's slopes with doomy introductions, bridges, and codas that lost listeners' attention. Good ideas such as the lead around thirty seconds into "Downward Spiral Of Morbidity" were frequently left undeveloped and discarded for sake of atmosphere. The cause of death may have been due to the lack of musical knowledge and proficiency between the two guitarists as seen in the Kerry King style solos. Among the many methods of improvement Dead Congregation could take to stand out from the could've, would've, should've of the early nineties would be to ascertain how and why Onward to Golgotha ebbs and flows both melodically and rhythmically, actually uniting their riffs into flowing long-form neo-classical narratives rather than rock songs, or using the doomier verses to ground the music in unique atmosphere. Dead Congregation would opt for the latter, quick and easy way on their first LP, Grave of the Archangels.
Tags: 2005, Black Metal, blackened death metal, Brutal Death Metal, dead congregation, death metal, EP, Martyrdoom Productions, nuclear war now! productions, Nuclear Winter Records, Purifying Consecrated Ground, review