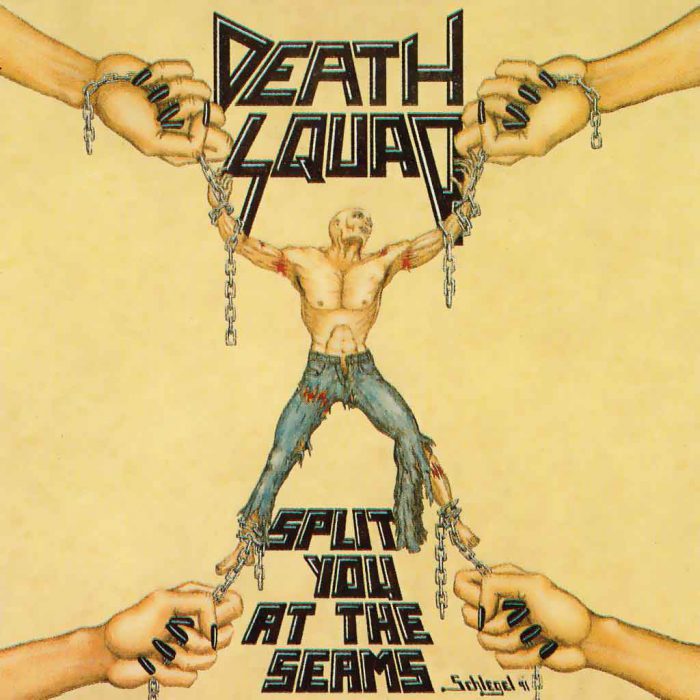 Death Squad – Split You At The Seams
Ever Rat Records, 1991

Speed metal — rising from Tank, Satan, Metallica, and Mercyful Fate — had a good but short run in the 1980s before enterprising poseurs worked rock and blues back into the mix, taking away the focus on riffs and song construction in favor of what were essentially pop songs with lots of muted E-chords. Split You At The Seams shows a late entry with roll-your-own spirit.
Coming from the school of later speed metal, Death Squad uses lots of choppy riffs but more of a Slayer-influenced dynamic of contrast between riffs, making it less cloying and irritating than the bands that shied away from the innovations of the second Metallica album versus the first, which essentially plugged them back into verse-chorus arrangements and forced the choruses to become rhythm hooks in order to keep energy high, which over time wore down listeners with repetition.
Every aspect of this release emphasizes the homespun from its highly allusive but clearly homebrew riffcraft through its enhanced basement level production, and this independent nature manifests in songs that sound like Exodus and Overkill crossed with a more aggressive underground band. Heavy metal influences intrude with lead guitars but chanted vocals and high speed compel them to be minimal for most of this release.
Although it sounds more like a compilation of demos than a freestanding album, Split You At The Seams delivers on the promise of speed metal, which was to make heavy metal more intense like punk and more riff-based like progressive rock, and despite the cudgel-like simplicity of many of these riffs, this album fulfills that need. Its independent spirit gives it additional charisma.
While speed metal essentially died as a subgenre, it lives on through many who appreciate the clarity of its time and its approach, and this album provides an insight into that appeal. For those who want a basic speed metal without the excesses but with the extremity, this ancient work — re-issued in 2017 — might be worth exploring.
Tags: death squad, Speed Metal