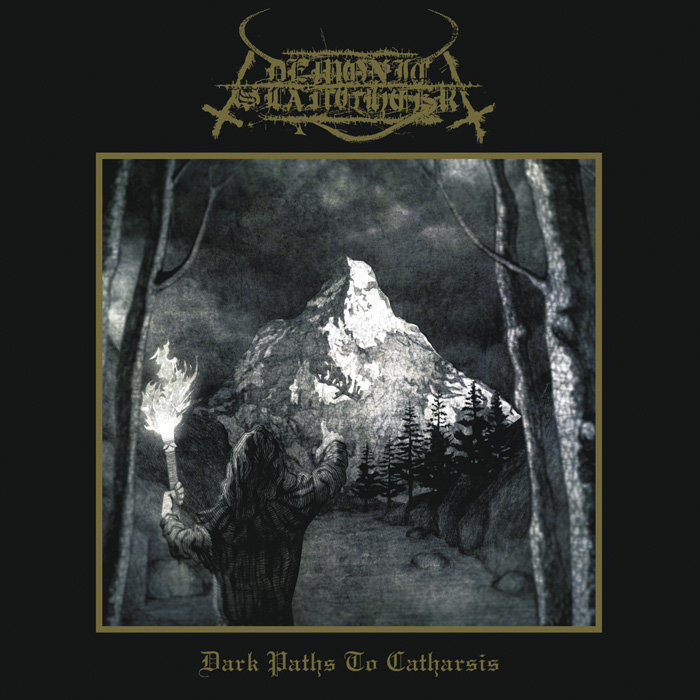 Article by David Rosales.
Dark Paths to Catharsis an album clearly intended to be atmospheric black metal, perhaps even a little too intentionally. Its method is of the so-called 'melodic' type, describing long, simple melodies played with tremolo picking, a backing power chord guitar, supporting bass, and mid-paced double-bass drums. The vocals are not entirely screeches though, being more a sort of angry dad-rock that is only mildly raspy in style. There are two major problems with the orientation and the structure-building method in Dark Paths to Catharsis: first of all, it is style-oriented; second, it replaces order with feeling.
Demonic Slaughter is a pretty laid-back, mid-paced band, with an overemphatic melancholic tone, like Sorcier des Glaces, but with inappropriate vocals and an even less-changing landscape. The techniques used are all cliched and nothing seems to stand out as particularly well thought-out, leading one to the conclusion that formulaic applications replace creativity. The band seems to be intentionally following trends in the style, without introducing anything, so that what we see is a technically-original melody around which extremely generic metal plays.
Concerning structure, the beginnings of songs are unaffected and simply present an initial melody; endings are non-existent, songs simply stop. On top of that, Demonic Slaughter has decided it is a good idea to insert midi-orchestrated interludes whenever they see fit, without these having a definite theme or orientation besides 'this samey feeling throughout our album', which is entirely based on what is probably a unvarying tonal centers and textures. The deficiency of the latter is especially taxing on the quality of this music: it offers nothing in particular in rhythm or theme; the only option would be to make up for it in texture like many other black metal bands do.
Dark Paths to Catharsis is a compendium of mediocre metal, very poorly composed computer orchestration, and more importantly, a severely lacking vision. This does not mean that we can claim to know if the band has a conceptual image in their mind regarding the album. The point is that the music is so limited, that it is impossible that any of that tentative storyline or imagination can seep into it. If an artist relies on incredibly generic construction for every aspect of the music, and the structure, furthermore, is lazily arranged, it cannot be expected that the end result miraculously contains the dreams or concepts the band was thinking about when putting the music together.
Tags: 2015, atmospheric metal, Black Metal, Dark Paths to Catharsis, Demonic Slaughter, modern metal, review