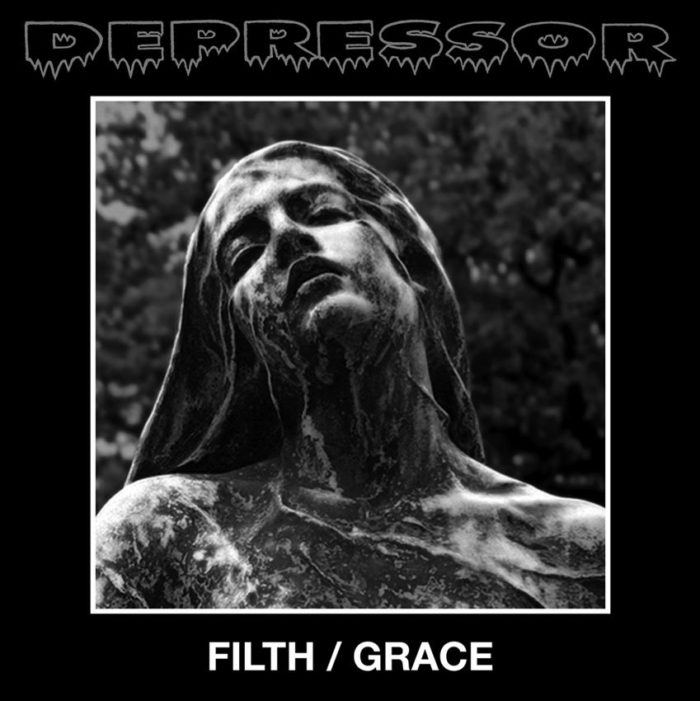 Article by Lance Viggiano.
In its best moments punk music transcends volk-rage by serving as a cracked mirror reflecting the forlorn realities that industrialization and intangible goal of perpetual progress wrought as this civilization awaited technological rapture to deliver its destiny among the stars. The reflection was always unclear because of its nature as folk music, marred by smudges and dust that lead it to misdiagnose the cause of its own woes. Depressor spiritually and musically channel this ethos while stepping into the well-worn boots of Godflesh resulting in a body of work resides between industrial, doom/death and punk music. The artists understand that heaviness is not merely a novelty or a token, but a vessel.
During its highest achievements, Depressor repurpose Sabbath scrap into moments of meaning for those staring further down an arc of decline that their descendant riff patterns prophesied rather than perceived. Adept, effective and simplistic motifs are both well considered and carefully placed to give each note a weight of significance that paints a flurry of images which are given definition by nuanced industrial outlines. The rhythms operate in two essential modes: a flurry of electronic inheritance that strides closes next to dance music and the painful pulsing of automated impoverishment. Naturally, the former are used to drive the chase down the fracturing highways and crumbling infrastructure left in malign neglect while the latter pulses with the maddening violence of mechanical motion as it echoes across a sprawl of slowly crumbling skyscrapers. The human voice, worn from chord roughing debris, recalls Justin Broderick as readily as it reminds of UK crusters Doom to give indignant sermons that are annotated with misanthropic anguish.
Despite the compiled nature of this release, the stylistic contrasts function well as a whole work due to the consistent meta-musical subject matter. The concrete efficacy here is not to be understated as it is clear the goal was, first and foremost, to make music rather than propagandize an ideal or seek scene popularity. In a way, this body of work redeems decades of decadent and inexpressive industrial metal which broke the promise made by the legendary Streetcleaners. Filth /Grace is a blemishing bust of man not as the victor over nature, but a victim of his own hubris. Depressor only truly achieve that sense of religious significance to the pillager in its coda "Mammoth", but ultimately the quest for meaning must begin by describing first what is.
Tags: anthology, compilation, crust, Depressor, Filth / Grace, fuck yoga records, godflesh, Industrial, industrial metal, review