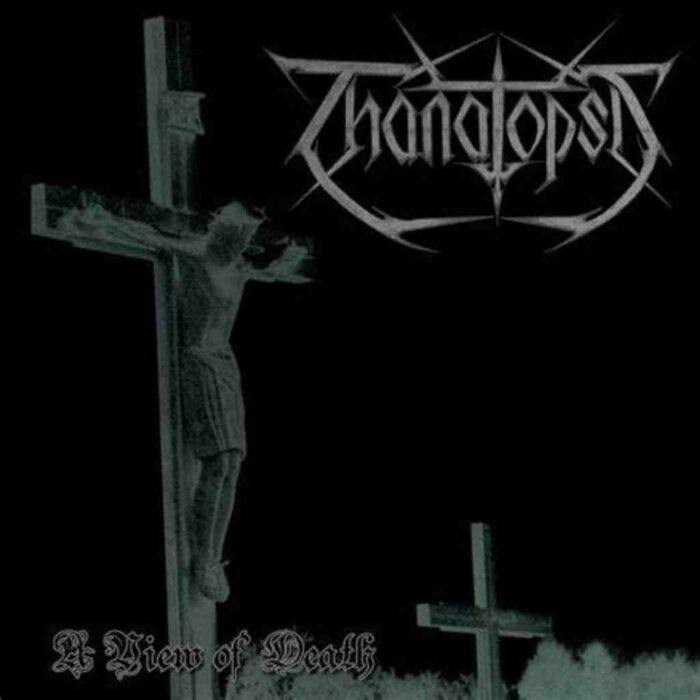 In the busy postmodern era, we like to dig through the past to see what could have been, might have been, or has been but might be undiscovered. Unfortunately, we commit a lot of type I errors, namely false positives, in our zeal for finding that unpolished, uncut but valuable gem in the sands.
Back when they were a going thing in the 1990s and these demos were recorded, Thanatopsis was viewed as the next big thing because the band demonstrated technical acumen. Back then, death metal had low self-esteem because rock musicians viewed it as harmonically chromatic and rhythmically primitive.
You would hear them say that death metal musicians barely made it to major scales, and could not attempt anything as far-out and wild as the blues scale or a minor melodic scale. It was all in 4/4, they would say, and did not use key changes or vocal harmony.
With the benefit of years, we can see that death metal is in fact a modal style of music based on through-composed phrasal riffs which have a language of their own, and its atmosphere comes from a vocabulary of patterns instead of, like jazz and rock, fixed patterns with vocal melody and internal harmony.
But back in the day, death metal craved respectability, mainly to keep those upper-half-of-middle class bourgeois parents and teachers from raising their noses too much at it, so there was a niche market for bands that could play their instruments in ways rock and jazz musicians recognized.
Thanatopsis came out of the Bay Area sound with a series of demos that showed, like Tool did years later, how to work metal complexity into rock format riffs and use internal harmony as well as an overactive progressive funk style bass to intensify the experience for normies.
Looking back, this was sort of a giant middle finger to the rock Establishment that was unaware it was in its final days, but the music that Thanatopsis put forth more resembles Bay Area speed metal like Sadus or Hexx, using speed metal structures with jazzy riffs and death metal aesthetics.
This compilation, put out by Cursed Records in 2008, shows the band in both live rehearsal mode and studio recording, capturing the frenetic energy of the band. One can also see how the vocals influenced Grotesque or vice-versa, and the aesthetics bled over into a great many bands from the era.
Will this join the pantheon of the best? Most likely not, since it is not really death metal, nor does it exhibit the mastery of the riff and the thematic dialogue of riffs that make death metal great. But for a thrashing speed metal odyssey, it hits many of the right notes.
Tags: Speed Metal, thanatopsis