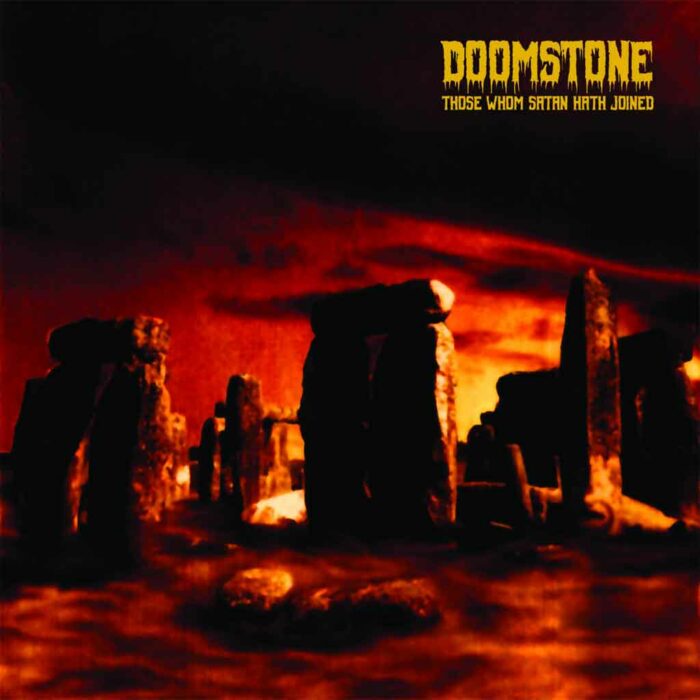 Among seemingly insatiable hunger for all things old school or concept-oriented, it seems unbelievable that Doomstone were once an anomaly. Bypassing the early 1990s underground metal boom, Doomstone embraced a deliberately retrogressive channeling of the "evil" side of 1980s heavy metal.
This approach brought back the aura of cult acts like early Black Sabbath, Mercyful Fate, Cloven Hoof, and Satan's Host. Hidden behind genuinely hilarious nom de plumes ("Cross Turner Upside Downer," "Keeper of the Brazilian Death Metal albums"), the band — perhaps more accurately labeled as a Deceased side project — were luminaries of the Virginian underground Metal scene, most prominently core members King Fowley (drums) and Les Snyder (bass) of Deceased along with a revolving set of characters which on this debut full-length album included Demonic (guitars from Grand Belial's Key), Dennis Cornelius (guitars from Revelation) and Jeff "Vomit" McClelland (vocals, writer from Deathvomit zine).
In search of raw material that would resonate with the Satanic/horror-themed lyrical themes, Doomstone plunged into the past and twisted Sabbath/Fate styled riffs into the most filthy and sinister forms possible without losing their intrinsically catchy (dare we say groovy?) character. Despite the songs' brief and rather rudimentary nature, Those Whom Satan Hath Joined offers enough quirkiness in the songwriting department to avoid the long-term tediousness of many a heavy metal album, perhaps a nod to contemporary developments in underground metal and/or Mercyful Fate's and the more outlandish NWOBHM bands' proclivity towards extended verse/chorus formats.
With Those Whom Satan Hath Joined, Doomstone succeeded in crafting an album that offers a similar experience to watching classic late-night horror movies: densely atmospheric, vaguely familiar in a positively nostalgic kind-of-way, reminiscent of the darker aspects of life and irreverently fun at the same time.
Tags: doomstone, Heavy Metal