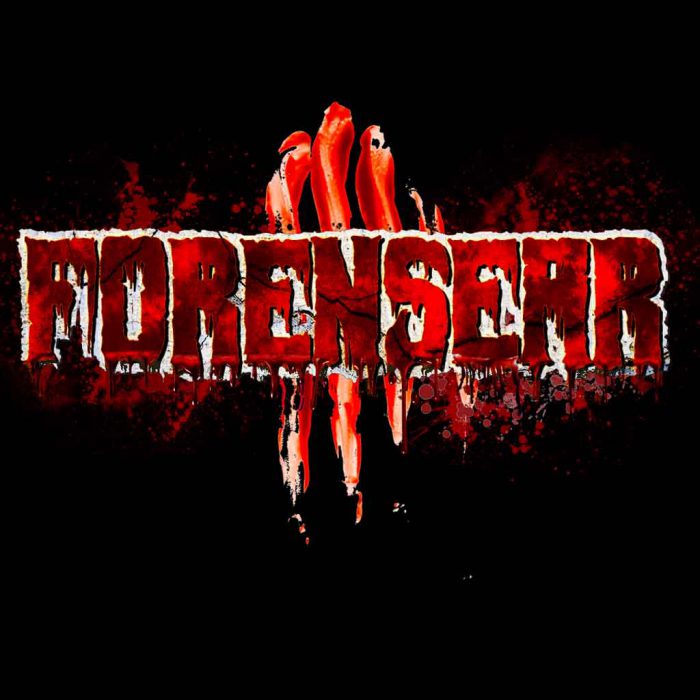 Forensear come to us from the Argentinian scene, part of that wide South American envelope where the distinctions between subgenres blur, and sounds roughly like an early Testament playing death metal at moderate speed metal pacing, resulting in a trudging but energetic delivery.
Although the vocals follow the death metal pattern from the old school, guitar riffs aim for the speed metal bounce, with lots of muted-strum double-picking, and center themselves around a phrase such that they alternate strobing rhythm and intricate fills, breaking a momentum to sustain it.
This produces a somewhat stilted sound like we hear on many demos where bands are working so hard to establish a framework that they lose inertia in favor of hammering out the riff and keeping a steady, engaging pattern. This perception fades quickly and gives way to appreciation for these traditional speed metal homebrew riffs.
"Single 2019" contains two tracks, "Durmiendo en la Fosa" and "Thrashero," both of which keep energy high while aiming more for foot-tapping durable, chorus-driven heavy metal thrills than the riff-maze of death metal, but demonstrate a solid conception of the spirit of metal as it gradually translates to their developing style.
Unlike most bands, Forensear know how to take a song to its conclusion, focusing little on introductory material and more on a verse-chorus framework which slams into a twist, reversing a riff or making a fill take the place of a primary rhythm, before concluding with hard emphasis.
Promise lurks in this approach and the skill of these musicians. It will be interesting to hear more as they develop, but in the meantime, the spirit of raw 1980s speed metal lives on in this death metal hybrid, which delivers an unrelenting metal spirit even as it evolves into something greater than it is right now.
Tags: forensear, Speed Metal