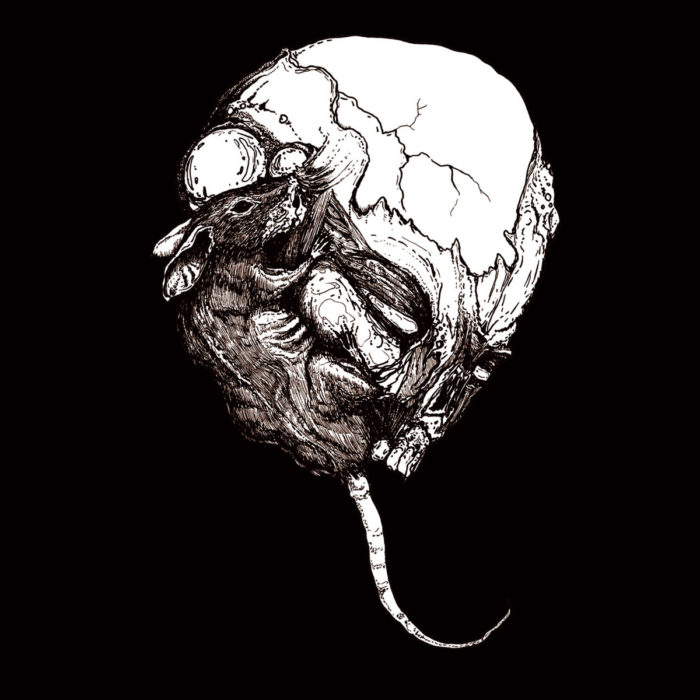 Article by Lance Viggiano.
Arpeggiated minor chord melancholy culled from or composed during belligerent improvisational tirades given body by a sluggish left hand approximating power chords to provide the work a lattice to the traditions of metal. Yersinia Pestis abstains from its predecessor's thematic coherence – an accident of writing what were essentially cover songs of a famous painter – to make marked but mishandled improvements in its individual presentations through tuneful reprisals of established Goatcraft trademarks. The dependence upon staccato and arpeggio retain the artist's characteristic stiffness in execution which blemishes through its brutishness.
There is little sense that any moment within a song's phrases have any more significance than those which come before and those which shrug thereafter. The lack of internal drama betrays any development of dynamics which faintly arise out of understated synth melodies and washes of ambience. As a consequence, the work as a whole comes across as little more than a compilation of introductory or intermittent vignettes for proper metal albums. What is needed is a sense of vulnerability, to allow the momentum and motive of a motif to fail; collapsing before the thrust of another internal turn of phrase which reconstitutes what has broken arises out of the pit and into the sun. Instead, undifferentiated and timid events transpire within suffocating corridors wherein musical contents are castrated to build an atmosphere of stagnant air.
What most damns Yersinia Pestis, like all preceding Goatcraft efforts, is the dearth of legendary and eternal melodies. While it is this area in particular that appears to have been the developmental focus; immaturity prevails. Had it not been so deficient thusly its structural misgivings would not be so apparent. On the contrary, irrationality could have been a boon because the deconstruction of life as quintessential absurdity appears to be the aim of this work. What has been recorded however, merely emphasizes the desecration of illusions and does not seek to find for itself a ground upon which a qualitative vision of life itself is established as a counterpoise to its inherent fatalism. The obscure and distant aesthetic experience whimpers forth incomplete and nearly unwilling; it as if the Muses themselves remain disinterested in the lone goat.
Tags: 2016, Ambient, ambient music, dungeon synth, goatcraft, gothic, keyboards, review, Yersinia Pestis