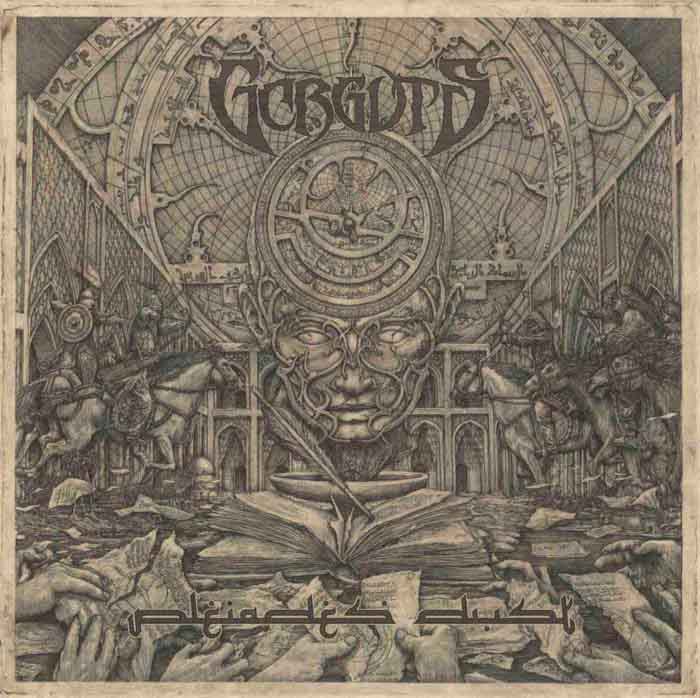 Gorguts is a band that for a majority of its career has resembled an act that is at war with itself artistically.  After a serviceable debut comprised of purely death metal notions and peaking with its most dense and progressive release in The Erosion of Sanity, the band chose to scale back its arrangements while imbuing its approach with a discordance that may have laterally trespassed its prior unsullied metal constructs but at the same time gave Gorguts an identity all their own.  With regards to their contemporaries, you cannot currently say a band "sounds like Gorguts" without indirectly focusing on the sound created on Obscura, and the band's own knowledge of that most likely has controlled their writing ever since — to the detriment of their overall intents in each record from then on…
This struggle to mine their identity for compositional relevance culminated in the post-reunion release Colored Sands, which despite the guise of overall conviction through a grandiose concept album felt more like a midlife crisis for main songwriter Luc Lemay in that the tools utilized to create their most renowned efforts became the message itself- this is the band that popularized abrasive discordance in extreme metal, and they were going to give that to you.  They were going to sound like Gorguts in a world where now they weren't the only band available to do such, and in that superficial manner their post-reunion efforts have been successful, but the music overall had become far too abstract and one-dimensional to be wholly effective.  Their current approach due to the lack of dynamic phrases removes the immediacy of their previous voicings and renders Gorguts' sound as one of observers rather than participants, and Colored Sands fails due to attempting opaque music from abstract, transparent tropes.  Audiences still were receptive to the change, seemingly loving what Lemay was trying to say rather than analyzing the method in which he said it.
While Colored Sands was a disappointment overall, there were glimmers of hope in the record- the second half of the album had elements that reflected the confident immediacy the band used to wield, but you had to wade through the meandering first half to get there.  Releasing a one song, 33 minute EP after could hint at either one of two things: the band had recaptured its artistic foundation with brazen assurance, or they would succumb to the fallback of their superficialities while under-developing a proper musical statement.  Unfortunately, it appears Gorguts has done the latter.
Continuing the band's love affair with historical narratives of cultures foreign to them, Pleiades' Dust is lyrically centered around the loss of the House of Wisdom, a library in Baghdad containing much of the world's knowledge prior to the 1200s Mongol invasion.  A band can effectively write about concepts that are intrinsically bereft to the author should he/she take the listener there confidently, however if you approach a theme with a timid command the effort rings much more hollow than one composed of ideas properly imbued by the artist.  A single track release is a confident idea, but once you realize just how meandering a lot of the material presented here is you find Gorguts resonates as a band dancing around ideas as if afraid to get their feet wet.  Melodic themes surface and immediately yield to shrieking discordance that eventually results in ear fatigue, and when reintroduced, instead of properly advancing a narrative, they serve as mere bookmarks in a sea of blank pages. 
Some of this fatigue is due to the tonal reliance on a very specific dissonant chord.  There is a musical technique called a pedal tone, where a tone remains constant as a bassline melodically shifts, or a bassline remains consistent as the rest of the phrase changes to present a progression in narrative through contrast.  A common example in this is the fourth note of each arpeggio in the verse riff of Metallica's "Welcome Home (Sanitarium)."  When utilized properly, you can advance a musical story in a microcosmic way within a riff and eventually build to a greater resolve at a song's conclusion.  Throughout Pleiades' Dust however, the utilization of various forms of discordance throughout the record is eschewed for a reliance of the same pedal tone over and over, and instead of this technique advancing a narrative, it reduces the entire effort to an extremely limited tonal prison.  There are brief reprieves from this, such as the beginning of seventh movement "Besieged," which begins with what resembles a traditional doom riff, but in what feels like a group decision to abandon all hackneyed metal tropes, the riff leaps out of register to achieve discordance completely inorganically, as if it was decided it "wasn't Gorguts enough."  This causes the often spellbinding musicianship to be more riddled with gimmickry than declarative essence, and leaves the listener wishing the band hadn't musically painted itself into a corner.
What would be a true progression for Gorguts at this point would be to abandon the abstract and minimize the discordance, because the continued layering of high-register guitar wailing becomes more musical wallpaper than desired catharsis through contrast.  The extremity in such tonal abrasiveness has lost its effectiveness in the current incarnation of extreme metal, and the minimalist abstract passages that bookend the more aggressive parts aren't fully realized due to lack of concrete melody to anchor any themes.  After such a storied career, Gorguts would be best not trying to sound like Gorguts and instead present a record that is confident in execution, deliberate in the wielding of concrete textures, and challenging for the right reasons.  Until then, the band will continue to operate as an act with a wealth of things to say, yet voiceless when forced to express it.
Tags: death metal, gorguts, Progressive Death Metal, Technical Death Metal