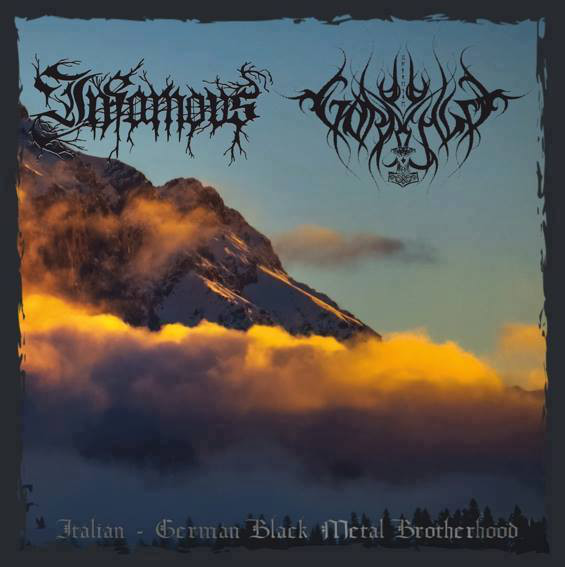 By now established as one of few post-nineties black metal acts worth saving for posterity, Infamous returns with yet another joint effort production on the Hammerbund label. Joining the bill is the somewhat amusingly christened Gorrenje, a band previously unknown around these quarters but apparently of a slightly older vintage than their Sardinian counterpart. As has earlier been the case, Infamous proves to be vastly superior to their collaborators and is therefore the one most worthy of our attention.

If we really want to look for structural, technical reasons for a distinguishing characteristic that sets these two bands apart, it would be the Sardinian's natural sense of melody and sense of cohesion throughout his compositions. This is the tactful use of elongaged, thematic melodies by Infamous, lending the music an air of great eloquence. Not only that, but in Infamous there is a sense of firmness and solidity provided by an elaborate use of the main theme as motific material for different sections throughout the song. What and how Infamous is distinguished from Gorrenje is, in part but not wholly, a question of refinement. Nevertheless, that is not to say that there is no value in Gorrenje's music, and in the context of the split, its faster and more juvenile spirit serves to prepare the listener for the more paused, grand, flowing set of songs by Infamous.
Judging by the instantly recognizable stylistic perimeters and production values, this is not music aimed at novelty but rather at compositional refinement within a firmly grounded mode of expression. This approach is most clearly manifested in the captivating opening track "A su Connottu, Pro sa Lei de S'antigoru" (track 5 on the CD). Performed in the instantly recognizable, raw yet melodically literate style indigenous to this band, "A su Connottu…" give witness not only to Infamous' ability to craft evocative and memorable material but also to a keen sense of thematic development where opposite forces clash and successively transform, coalescing into a greater whole before a grand recapitulation strikes down like a hammer of the God. [1]
However, what ultimately sets Infamous apart from more or less every other black metal act active at this point cannot be captured with reference to clever songwriting, beautiful sonorities or a gratifyingly feral aesthetic. The quintessential power of S.A.'s work, ever present since the band's inception, stems from an exceptionally strong affective impact. This is fiercely passionate music that, like all great black metal, transcends personal drama in an evocation of pure, unfiltered human emotion. Not merely as a comforting and ultimately passive solace against an unforgiving world but rather as a reawakening of inner strength, a battle cry for souls too long in dormancy.
Notes
[1] See Charles Stuart's commentary on the Infamous black metal composition 'Infamous "A Su Connottu, Oro Sa Lei De S'Antigoriu': https://www.deathmetal.org/review/infamous-a-su-connottu-oro-sa-lei-de-santigoriu/
Tags: 2017, gorrenje, infamous, Italian-German Black Metal Brotherhood