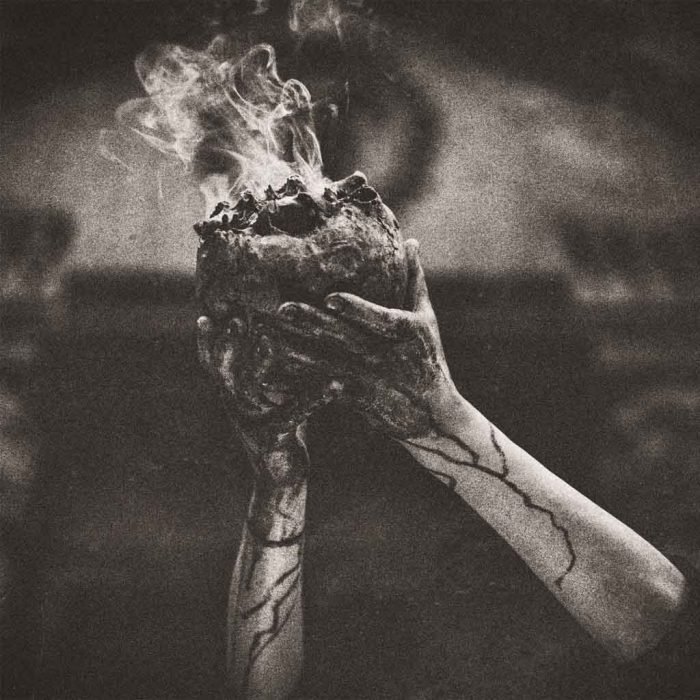 Most of the "new wave" of underground metal has focused on achieving a singular mood, such that you descend into it and then ride it until it stops; these two bands aim for a new yet more traditional version where songs develop in two steps, a descent and an arrival, then stop.
Conjuring Subterranean Vortex presents us with two takes on a similar aesthetic vision: Hadopelagyal descends into a fusion of doom-death and later black metal, where Thorybos explores a vision of war metal if fused with roaring primitive black metal. Both arrive at the same descent and ambient suspension of disbelief, less a message than the background for one to emerge.
Hadopelagyal specializes in measured deconstruction of a simple repetitive sound, followed by the establishment of an "anti-groove" which operates on cadence instead of offbeat, and sweeps through a basic chord harmony as a means of creating a Burzum-like cyclic riff setting mood. Once this descent is achieved, the band explores it texturally, and then departs with more questions than answers.
Thorybos delights in the rushing rhythms and sonic wave of war metal but point it toward more of the gradual enmeshment in a dark and hopeless place that early black metal like Von and Belial celebrated, although here vocals take less precedence, being similar to Hadopelagyal in serving a background rhythm and texture role. These songs expand more, but aim mostly at a circularity which layers increasing alienation through minor variations onto a compelling rhythm.
Both of these bands understand how to make songs, namely how to have the parts relate in more than scale and how to stack rhythms in such a way that songs move forward as organic wholes. They could go further in terms of developing their melodic themes and riff shapes, so let us hope for that on the next release.
Tags: Black Metal, hadopelagyal, thorybos