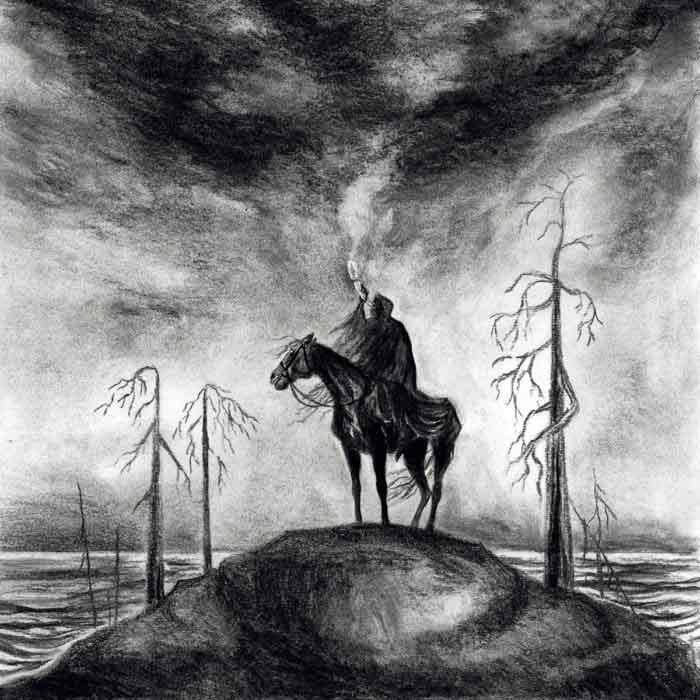 Havukruunu, despite their Burzum like cover, worship Bathory's Blood Fire Death and 1980s synth pop on Kelle Surut Soi. Havukruunu attempt the folk choruses, epic atmosphere, and melodic solos as Quorthon did in his successful attempt at mixing black and speed metal. Unfortunately for my ears, Havukruunu are not so successful on Kelle Surut Soi.
Havukruunu's riffing is generic, paying tribute to all your favorites in a laid-back lackadaisical manner. Bathory, Burzum, Enslaved, Emperor, and Kvist are all desecrated for funderground pleasure on Kelle Surut Soi. Solos resemble 1980s arena and glam rock. Vocals are an annoying, high-pitched rasp and chanting that sounds like Whitesnake picked up a tape of Blood Fire Death or Hammerheart. Keyboards sound like Duran Duran or later New Order after New Order became awful dance music for homosexual European club rats on cocaine. Remember that one New Order album with the cover that looks like the Point Break poster? I don't as I never listened to it as their previous stuff was awful and it looked awful too. Kelle Surut Soi tries to be the black 'n' roll version of that.
Havukruunu could improve though as the band can certainly play. Death Metal Underground recommends Havukruunu stop listening to funderground black 'n' roll and instead listen to Summoning, Under the Sign of the Black Mark, Blessed are the Sick, Battles in the North, and Blood Must be Shed until their minds are expanded from the power of actually good heavy metal. Headbangers would do well to avoid Kelle Surut Soi and listen to those instead too. If you like this and are over forty, you probably didn't like Metallica in the 80s; you loved Motley Crue.
Tags: 2017, black 'n roll, Finland, funderground, glam metal, havukruunu, kelle surut soi, naturmacht productions, review, synth pop, synthpop