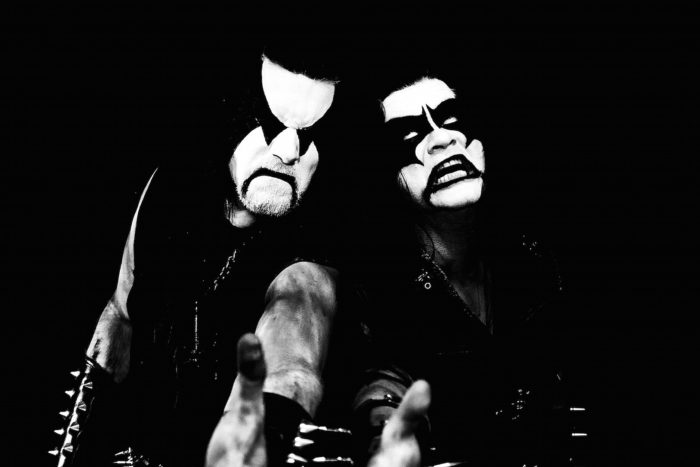 Cash grab alert!  After giving the classic board room "fuck you" to cornerstone musician Abbath, the corporate conglomerate of Demonaz and Horgh have secured the legal rights to the band name "Immortal" and are now positioned to promptly squeeze their fans to blindly buy music and merch advertised as that of a Norwegian black metal legend.  Although the pair have only played together on one album out of 12, they're billing this as "the comeback of Immortal!" and have already gotten the infamously money-hungry Nuclear Blast records to set up the most overused rock n' roll ponzi scheme.
Together, the pair have released a new song "Northern Chaos Gods," the title/intro track of their first foray into commercialized rehash.  So how did the miraculous (fake?) recovery of Demonaz's tendonitis work out?  Exactly how far into the waters of retro-rehash did the band wonder?  Have they evolved even the slightest as musicians or do they remain forever trapped in the 90's? As trust fund life-dropouts living in the woods at the expense of their family might say:
"Let's find out!"
Immediately, it's clear that Immortal have committed complete necrophilia of their early material.  Taking the approach Burzum used on their first two "comeback albums" in 2010 and 2011, the song – from start to finish – is a ripoff of their own back catalogue (particularly, the Pure Holocaust album).   There are only a few riffs, almost all of the song is played at warp speed, and there isn't much variety or thoughtfulness like what we've seen from the albums where Abbath was playing guitar.  The vocals follow the same pattern/placement that Abbath would have used, but are slightly higher in pitch and float comfortably above the frog-like register of the past.
For some, this will be interesting as Horgh's stellar drumming ads some additional depth to the compositions and the clear production adds a colorful clarity that was not found on the band's earliest works.  Many who disliked the classic heavy metal influences that surfaced in the age of At the Heart of Winter will find relief in this return to form of sorts.  Low IQ metalheads looking for a mindless stream of "idiot metal" can rejoice at the frantic blizzard riffing that they'll find here.
But as a band that's brought innovation, creativity, excitement for many decades- this is a complete cop out and ultimately and utter cash grab.  In the age of internet metal, we have thousands of bands playing in this style that can easily match this level of composition and production.  Plus, we've all heard Pure Holocaust and Blizzard Beasts already and don't need to hear what's essentially a remake with different riffs.  There is no meaning, purpose, or use for this shit existing except to make money for a couple of aging Norwegian fatasses.
The levels of retro-necrophila that Immortal have displayed on this release have never been seen in metal before (outside of this decades Von albums).  Essentially it's the metal Full House reboot- every nook and cranny of this piece hinges on the gimmicks of a time fargone.  Just look at the fucking lyrics:
Fires and battles and blood
The immortal sons and the hordes of Blashyrkh
By the north
It's as if the band just threw their old song titles in a computer algorithm that just randomly assorts words and phrases together and called them lyrics. They're banking so hard off the retarded desperation of their fans to want to return to the 90's that they've essentially rerecorded a hodge podge of riffs and lyrics from previous works.  Sad!
History would better remember Demonaz as the man who's hands broke too soon, but with this garbage piece of shit music he has thrown his legacy in the garbage in the desperate pursuit of more money.  Hopefully, his tendentious will return so aggressively that he will never be able to pick up a pen and sign another record deal again.  But until that day comes, we are likely to get more cash grab-rehash bastardizations as a band that was better off in the more capable hands of Abbath.
DO.NOT.WANT.
Tags: Black Metal, cash grab, commercial, immortal, metal, necrophilia, rehash