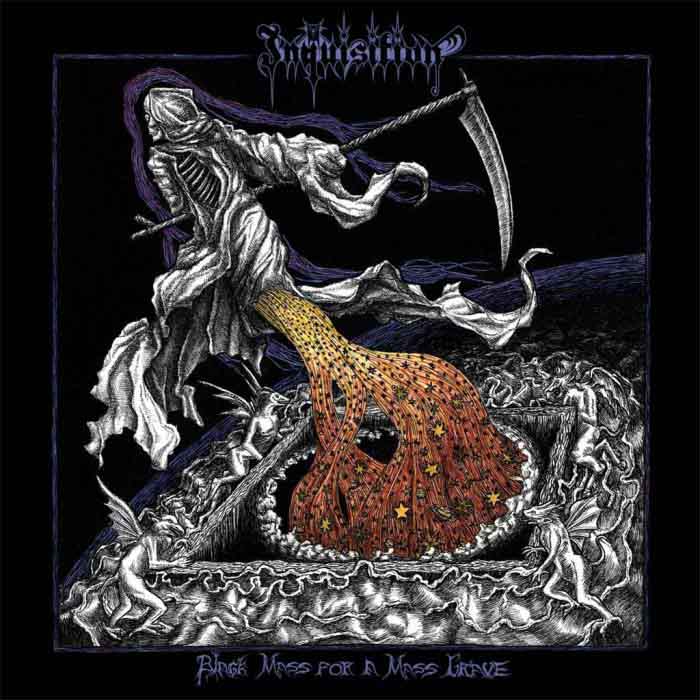 We predicted many years ago that rock would assimilate metal and adopt its techniques, missing the point, and Inquisition comes along with a release that is half metal of various subgenres and half 1970s album-oriented rock, sure to be popular and yet, not bad at all.
Most songs consist of rushing death metal riffs which begin with flowing chords and then dovetail into heavy metal or speed metal style recursive and percussive rhythmic conclusions, giving this both bounce and flow, and then work in a melodic element, whether lead rhythm guitar as on the third track or the open chord strumming, Burzum-style, that dominates the second half.
Expect a compendium of metal technique within modified rock song structures with a curiously melodic twist to the vocals. This album is pure hook, and everything else serves that, which makes for an engaging listen although it becomes repetitive after a half-dozen songs.
Of particular note are the Infamous-influenced melodies on the second and fourth tracks and the cover, which suggests the content: blue/purple for melodic black metal (think Sacramentum), black and white for traditional death and black metal, and the bright colors for the 1970s vibe.
Tags: AOR, Black Metal, Inquisition